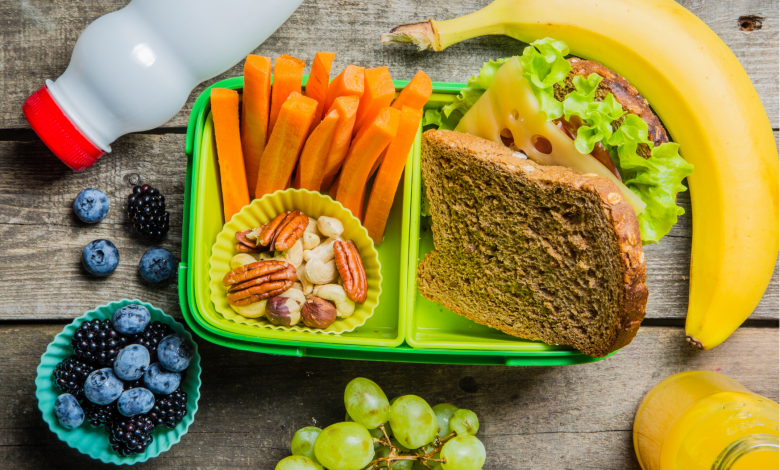 Packing lunches every day can be very time-consuming and stressful for parents who already have a lot to do. The school year is always tough, but you can make things a little easier with a little planning.
Lunches need to be cheap, healthy, and easy to prepare. Believe it or not, it is possible to meet all three goals if you know where to look. Below, you'll find ten quick and easy school lunch ideas that you can take advantage of if you are a busy parent with several children.
What to Include in School Lunches for Kids
Lunch prep involves a delicate art form that is tough to master. Recipes need to be easy to prepare, and the food products need to be easy and quick to consume. They also need to be healthy, as children need to be at their best during their formative years.
Grains, fruits, vegetables, dairy, and water all need to be included during the day.
School Lunch Ideas for Kids
#1: Turkey and Colby Jack Cheese Sandwich.
Add some Colby Jack cheese and some turkey to two slices of wholegrain bread. Use light mayo, mustard, and some pickles or relish if your child enjoys them.
Celery sticks should be added on the side with a tiny container containing some low-fat peanut butter. Baby carrots should also be included in their lunch box or bag in a small plastic wrap. Call them power sticks so your kids can feel like superheroes when they eat them.
#2: Chicken and Rice Burrito.
Heat your oven to 375 degrees Fahrenheit. Heat your water and salsa until they reach a boiling point in a saucepan. Stir in your rice, and then cover it up. Remove from the heat and allow to cool for six minutes.
Stir some garlic powder, cheese, and chicken into your rice amalgam. Spoon half a cup of your chicken/rice amalgam into the tortilla. Fold the tortilla and then place it in a glass baking dish that hasn't been greased.
Cover up with some foil and then bake for about 25 minutes. Garnish with some tomatoes and fresh lettuce, and the chicken and rice burrito will be complete. You can also add some sliced red bell peppers and pizza pasta into their lunch box.
#3: Veggie mac and cheese.
To make your veggie mac and cheese masterpiece, you will need to puree some cauliflower in your blender. Then, take the puree and add it to your cheese mix.
Most kids dislike veggies, so this is a smart way to add some veggies to the mac and cheese without your kids knowing it. They will also need a serving of fruit, so add a few orange slices to their lunch. Sugar snap peas should also be added to complete the meal.
#4: Quick pasta salad with fibrous-rich snacks.
Take whatever leftovers you have to make this quick pasta salad. Penne or rotini are the best options, as they have crannies and nooks that will hold onto your dressing with ease.
Throw in as many colorful and tasty veggies as you have available so that your kids can enjoy a super healthy and delicious lunch. Pick a low sodium dressing, and then toss in a few mozzarella balls that are nice and fresh.
Parmesan cheese is also a superb addition, as it will melt nicely in with your dressing. A yogurt parfait, granola or fibre bar, and some pineapple slices should complete meal #4.
#5: BLT sandwich with a fruit smoothie.
A BLT sandwich is typically made with bacon, lettuce, and tomatoes. You can add extra meat and veggies, such as ham, roast beef, grilled chicken, or prosciutto.
Celery, pickles, cherry tomatoes, and olives can also be added if desired. You can turn it into a Caprese sandwich with some cheese and aioli. You also don't need to use a typical sandwich bun.
You can put the gourmet bread aside and use a croissant instead to house all tasty meats and veggies. You can also use mayo, honey mustard, BBQ sauce, ranch, honey bourbon, or marinara sauce for the dressing.
Apples, grapes, and some carrots with a ranch dipping sauce should also be included with their lunch. Add some blueberries, strawberries, bananas, mangos, and pineapples to your blender to make the fruit smoothie. Throw in the desired amount of ice and puree to perfection.
If you are looking for easy-to-make school lunch ideas, then Hello Fresh can help. Nutritious, healthy, affordable, and easy-to-make school lunch ideas are available on the website. Simply click what you like, and all the ingredients and preparation guides will be sent straight to your door.
You won't have to spend hours in traffic and shopping, hoping that everything you need is available at the supermarket.
The pandemic has also stressed the importance of safety, so staying home and waiting for everything you need to make lunch delivered in minutes is convenient and safe.
You also won't have to worry about food waste, as everything is pre-cut and measured before it is sent, fresh and hot, to your door.
#6. Homemade Hot Pockets.
You can make dozens of different homemade hot pockets. Mix it up to keep your kids coming back for more.
For example, you can make cheese and ham hot pockets by making simple pizza dough and then adding your favorite cheese and some ham before placing it in the oven. Mandarin oranges, green peppers, and a healthy fruit cup or cereal bar should be added as a garnish for the lunch.
#7. Homemade pita pockets.
All you need to make a pita pocket is pita bread and your favorite meats and vegetables. Add in a banana, a tasty granola bar, and carrots with a dipping sauce du jour and your children will be the envy of the playground.
#8. Deli meat and cheese kabobs.
To make a deli skewer, you will need buttery and round crackers, grape tomatoes, Spanish olives, salami, Monterey Jack and Colby cheese, and some baked, cooked ham.
Wrap a ham strip around a cheese cube. Then, wrap a salami strip around a cheese cube. Thread an olive, tomato, salami roll-up, and ham-roll on a skewer or toothpick. Serve with some crackers, and you are done.
A fruit snack, animal crackers, and pear will help complete the lunch.
#9. Nutella and banana roll-up.
You will need a bag of flour tortillas, four peeled bananas, and a quarter cup of Nutella. Place each banana on the edge of each tortilla. It should be placed atop the Nutella hazelnut spread.
Roll up nice and firm to make your wraps. You will then need to slice each roll into a one-inch piece. If you wish, you can also garnish with some raspberries, blackberries, or raspberries.
Carrots and celery should be added with a chipotle dip. Broccoli should also be added, but with a ranch dipping sauce instead.
#10. Homemade muffins.
Preheat your oven to 400 degrees Fahrenheit. Add some muffin papers to your muffin pan to line it. You can also grease it instead if you do not have any muffin papers handy.
Combine your salad oil, milk, and eggs: mix salt, sugar, flour, and baking powder in another bowl. Next, pour the liquid into the dry ingredients. Blend everything until combined adequately.
Spoon your batter into the muffin papers. Bake for about 18 minutes and then store in an airtight container. Carrot and ranch dressing goes well with this lunch plan. Raspberries that are nice and fresh alongside some tasty apple slices, will hit the spot.
Pre-cooked bacon slices should also be added so that your kids can enjoy some succulent bacon bits before they return to class.
We hope our ten meal plans will help you get through another tough month of classes, rehearsals, and after school activities.
Have Fun with Lunch Pack Food
Ask your kids what they like and don't like. Try to compromise to get something they want while also including something healthy. Continue to work hard to make meal plans high in flavor and high in nutrition.
Get them involved in the cooking and preparation as well. As they get older, they will be able to make their lunches to get some much-needed rest.
There are thousands of different meal plans to choose from, so you should be able to meet your child's unique nutritional needs while also catering to their unique flavour profile.
Sources:
Homemade Basic Muffin Recipe – A Family Favorite – Hostess At Heart
Nutella Banana Tortilla Roll-Ups Recipe – Mission Foods
Deli Skewers – My Food and Family
22 Best Homemade Hot Pocket Recipes – How to Make Hot Pockets (parade.com)
Quick and Easy Pasta Salad (inspiredtaste.net)
Easy School Lunch Ideas for Busy Parents – Parenting Special Needs Magazine
Easy Chicken-Rice Burritos Recipe – Pillsbury.com