It's time you started to enjoy your protein shakes! You've been working hard in the gym and making sure you eat enough protein, so why not reward yourself with a yummy treat that will make you feel good both inside and out? Protein shakes are quick and easy to make. You can even leave them sitting for hours before drinking them – no need to drink them immediately after preparing.
Here are our top tips for making your protein shakes taste better than ever before: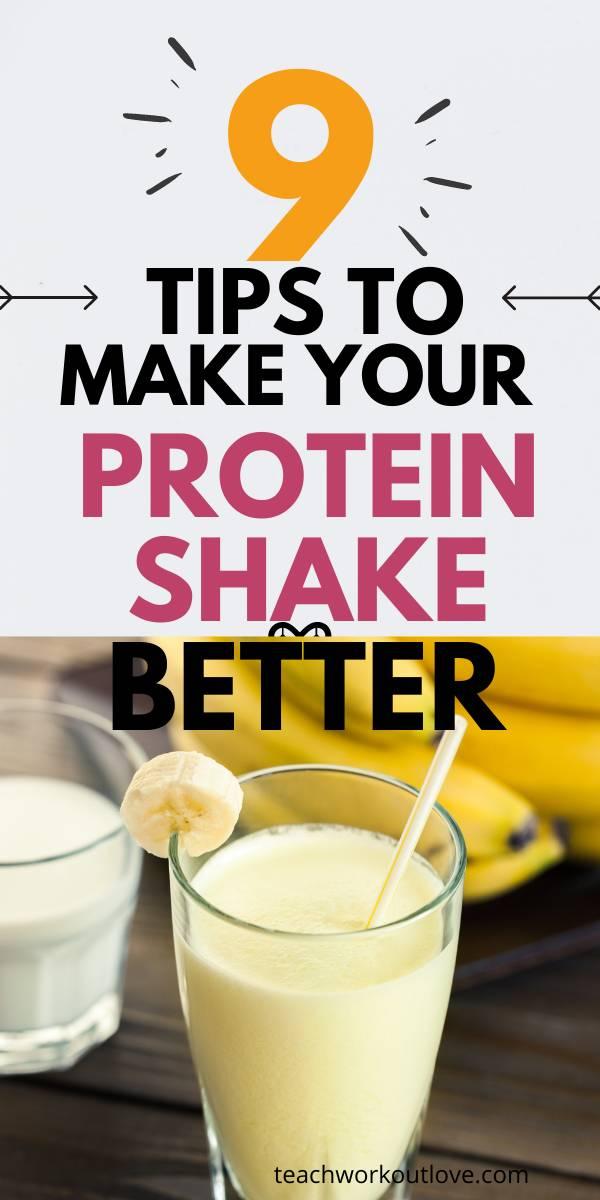 1) Experiment with flavors:
It's not always easy to find a flavor of protein shake you like. Rather than settling for unflavored protein, why not experiment by adding different ingredients? As you experiment with flavors and ingredients, think about what your body will be getting out of the shake. Add more greens if you want to boost your intake of vegetables and vitamins while reducing the amount of sugar and fat.
The more you experiment, the more likely you'll find a mix that suits your taste buds. Add a bit more variety to your protein shake with some interesting ingredients. Most recently I tried the Pumpkin Spice Flavored Vegan Protein Powder by Naked Nutrition. I love anything pumpkin spice and this was definitely a great choice. I usually only stick with chocolate flavor, but this was perfect for the fall/winter season. This is the PERFECT gift for your mom friend or your workout buddy who loves anything pumpkin!
Naked Nutrition offers an incredible selection of pure protein powders to help you achieve your dietary goals. From grass fed whey to organic brown rice, each one of their protein powders are formulated with a specific purpose in mind.  Visit Naked Nutrition website and shop today.
2) Use natural sweeteners:
If there is one thing that a protein shake should never be, it's bland. There are so many ways to perk up the taste of a protein shake. Sweeteners are great for giving your shake a hint of sweetness without the need for refined sugar.
Some good options include honey, maple syrup, or agave nectar – all three will give you a different kind of flavor than regular table sugar. If you're looking to add some fruit to your shake, try adding a little smashed banana or berries—just be sure to add them after the powder and water are mixed so their added bulk can keep you from over-stirring your drink.
3) Add flavor enhancers:
If you love drinking protein shakes or smoothies, but find that they lack flavor, then it might be time to give adding flavor enhancers a try. There are several ways to do this, but the simple way is to add cinnamon to your fruit, or fresh berries and chia seeds to improve the taste before blending in a high-powered blender.
This can be done with many different types of smoothies, depending on what ingredients you prefer. For example, if you enjoy vanilla, then add some vanilla extract with ice cream at the end of your blender cycle and let chill until ready to drink. So the best way to find out what flavor you enjoy is by experimenting with ingredients.
4) Keep your shake chill:
For a cool, refreshing beverage, add ice to any shake or smoothie. Protein shakes typically taste better when cold, which is why you'll often see them served this way in health clubs and gyms. When your shake is made in advance, add ice to the blender before adding other ingredients so that it will stay fresh longer.
5) Use Your Favorite Fruit:
Not a fan of the taste of your protein shake? Throw some fruit into it and your drink will be tastier! Sometimes all you need to make a protein shake taste better is the right fruit. Adding some strawberries, bananas, or pineapple can add just enough sweetness and texture to your shake. We have found that strawberries, raspberries, and bananas made our shakes taste better and that you get an extra serving of fruit for the day.
6) Add Some Almond Butter:
While there are many superfoods you can add to your protein shake, sometimes it is best to choose a food that is familiar but still totally nutritious. Enter: Almond Butter!
While almond butter is more commonly known as a breakfast food, adding it to your protein shake is actually a great way to add lots of healthy fats. This will keep you full for hours on end and is the perfect snack before or after a workout! With a subtle nutty flavor and a creamy texture, almond butter makes a delicious addition to any shake and packs healthy fats, vitamins and minerals into each sip without adding extra calories or sugar. It also lasts longer than peanut butter so you can buy it in bulk and have it around at all times.
7)  Turn your Protein Shake into a Delicious Fresh Smoothie:
All you need to do is add some fresh fruit, ice cubes, and a little water. Blend for about 30 seconds or until smooth and enjoy!
8) Changing the Brand
If you're unhappy with the taste of your protein shake, switching brands might be a simple solution. There are many different brands and types of protein shake available, so take some time to experiment with different brands until you find one that tastes good to you. If you're not sure where to start, reading something like these Proplant Complete Shake reviews can help you to learn more about this specific type of shake and why it could be the perfect option for you. This is a process that shouldn't be rushed, so do as much research as you need before committing to a new brand.
The more protein you drink, the better results you'll receive, so drinking something that's enjoyable will make it a lot easier to continue drinking it throughout your diet. I made the switch to Naked Nutrition, and it has been great for me. They are dairy free, gluten free, GMO free, soy free and vegan. It helps me feel like I am giving my body what it needs.
9) Add Yogurt:
It's not easy to add a bit of extra flavor to your protein shake. Adding ice cream or pineapple is an obvious choice but what about yogurt? Yogurt gives you the option of adding some extra taste without having to clog your arteries with cream or sugar additives. Yummy yogurts packed with good proteins are great ingredients you can use in your shakes.
Conclusion
There are lots of ways that you can make your protein shakes taste better than ever before. From what you put into them, to how you make them, there are lots of simple tricks that can make sure that your next shake is the tastiest yet!
This post contains affiliate links and I may receive a commission, at no additional cost to you, should you purchase through one of my links. Please see my disclosure for more information.