When should a parent start brushing their children's teeth? Most people don't really think of this question, especially right after having an infant who had no teeth and definitely not if you only have one child – it isn't the first thing that comes to mind. Going to the doctor for shots and wellness checkups, buying clothes that fit, getting through teething, finding food they will eat – all things that we know we need to do as new parents. But brushing their teeth? How does one know where to start or what to use?
Articles online say that as soon as the teeth start sprouting out, you should put a bit of toothpaste on them and continue from there. They also say to start brushing your child's teeth with with a toothbrush at age 2. We definitely did not start right when her teeth starting coming in. We started around 1 1/2 and she really liked the ideas of brushing her teeth. Even more so, she loved the idea of the tooth paste.
I recently discovered a company called Baby Banana on Instagram. I cannot even tell you how adorable their toothbrushes are and I wish I had had them for Hailey when she was an infant. However, I found the Elefriend toothbrush and toothpaste specifically for toddlers. The Elefriend is soft and flexible which provides for an easy grip on the brush. My daughter likes to put the toothpaste on the brush herself so this is really easy for her to use.
Here are some tips to helping your toddler want to brush their teeth.
Soft Bristles = No pain
The bristles aren't too hard or too soft, so they are doing exactly what is needed for toddler gums. This toothbrush is intended for 2 to 4 year old children with the idea of removing plaque from their teeth since they are now eating everything and anything. Anything that is not painful to them is a parenting win. If you happen to hit inside their mouth with a big plastic toothbrush and it hurt them, your child will 100% remember this and brushing teeth might be a struggle.

Make brushing their teeth fun!
Another reason I love this tooth brush is because my daughter loves it. She is the first one to ask me to brush her teeth and it is not a struggle. Before when we used just a regular plastic tooth brush, she didn't care for it, she was only doing it because she wanted the tooth paste. Now as she is getting a bit older, it's important to work on the basics and get a routine going and not just bribing from mommy and daddy for everything. This is huge. In my opinion, I like this brush a lot more than a regular plastic tooth brush because it makes brushing her teeth fun! Anything that is a chore that we can make fun is really important! 
Buy Tasty Toothpaste.
If you think your toddler is going to like the same tooth paste as you, you are wrong. Most toddlers want to yummy tasting toothpaste. This helps them to be excited about brushing their teeth and like the taste of it as well. As moms we know that anything that is not a constant fight is a serious win in the books and this tip right here, super important.
Set a time and location.
Setting a time and location to brush a toddler's teeth is very important. For my daughter, we brush her teeth in the morning and at night during bath time. She knows that in the morning she is going to grab her stool and she can brush her teeth at the sink. I showed her how to do this many times and we practiced together so that we could get the routine down and eventually she could do it all by herself. At night, I make sure we brush her teeth in the bathtub and it just has been part of our routine. Now that she knows what to except, there is not more arguing or fighting me on not wanting to brush her teeth. This has been a huge help for her routine at night because dragging on a tired toddler longer than needed is not fun.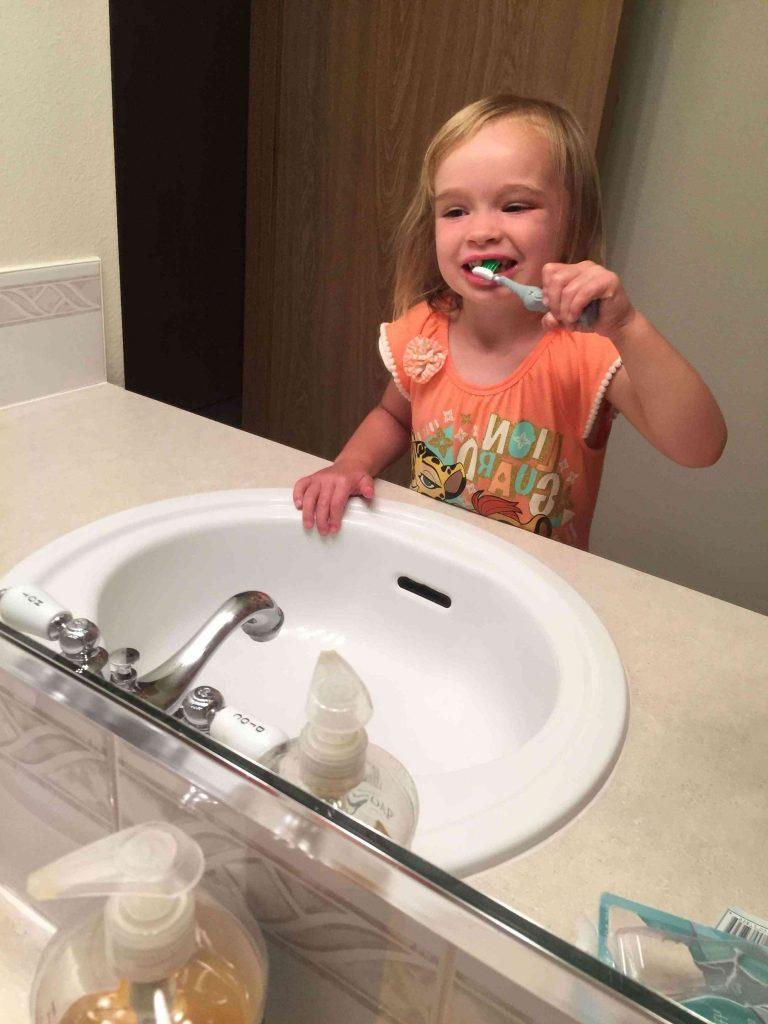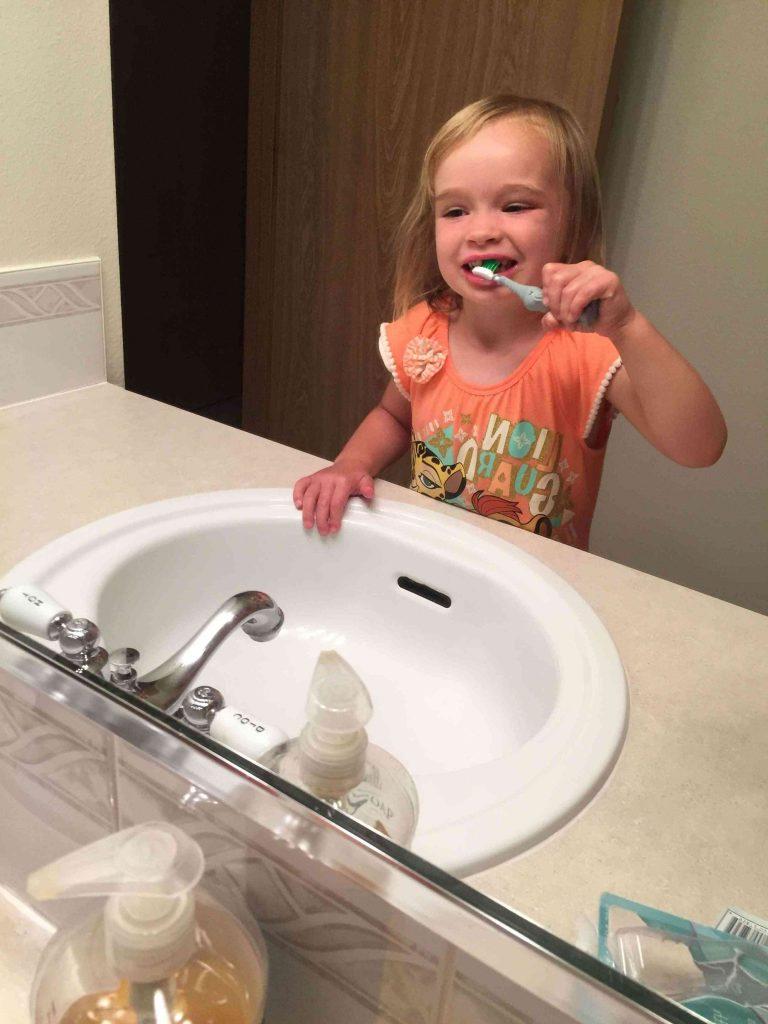 Still in the infant stage?
That's okay! But once a tooth pops through, start taking care of it. Baby Banana provides some awesome products for infants who don't have too many teeth yet but still are important to take care of. They have toddler training toothbrushes, infant teething brushes, and more. You can find them here.
{This post was sponsored by Baby Banana in exchange for an honest review. Please see my disclaimer policy.}