Just in Time, Lorena Canals Launches New Spring/Summer Machine Washable Rugs and Home Accessories, Bringing Eco Chic Style into Every Room in Your Home 
Morocco: Dive into fascinating Moroccan cities without leaving home! Given the success of the original Morocco rugs and accessories, Lorena Canals extends the collection with new designs, textures and sizes. This collection is inspired by the classic Arabic designs with tribal shapes, which Lorena Canals turns into machine-washable and functional works of art.
Each rug is named after a colorful city in Morocco. Designs include: Meknes (black, ashore, burgundy, aubergine, petroleum, natural, green), DRAA (petroleum, burgundy, aubergine, ash rose, pink, lemon, blue, klein, black), and ASSA (fuchsia, petroleum, emerald, natural, coral, lemon, black). For the first time, Lorena Canals dyes the base of the carpet, which requires a very laborious process that ensures the quality of the product.

You can match these rugs with the washable cushions, storage baskets, wall decor and cotton blankets to coordinate and complete the Lorena Canals Morocco Collection.
New classic bereber patterns turned into beautiful machine-washable rugs compose this fascinating collection, where the natural color of the cotton gets the spotlight in every design. With matching accessories and diverse sizes available, each Bereber rug has a different type of fringe and fits beautifully in any corner at home, as well as in children's rooms.
Designs include Bereber Rhombs, Bereber Ethnic, Bereber Crisscross, Bereber Burgundy

Complementing these new rug designs are gorgeous pillows, made with the same details as all Lorena Canals accessories. You can wash them without taking out the filler and feel confident in the knowledge that the non-toxic dyes, applied to 100% natural cotton, make these handmade cushions a safe addition to your decor, each unique and cozy.
Bereber Canvas: A new concept entirely, these rugs can be used on the floor as well as a tapestry for wall display! The beige color you see on the base of the rug is from the natural cotton which is not woven, after being carefully selected and washed. Due to the use of recycled cotton, you will see different shades on the base that are part of the exclusivity of the product and its artisanal elaboration process. They are lightweight (compared to traditional rugs) so you can easily move them from place to place even given their size. You can place them everywhere, from your porch to your living room.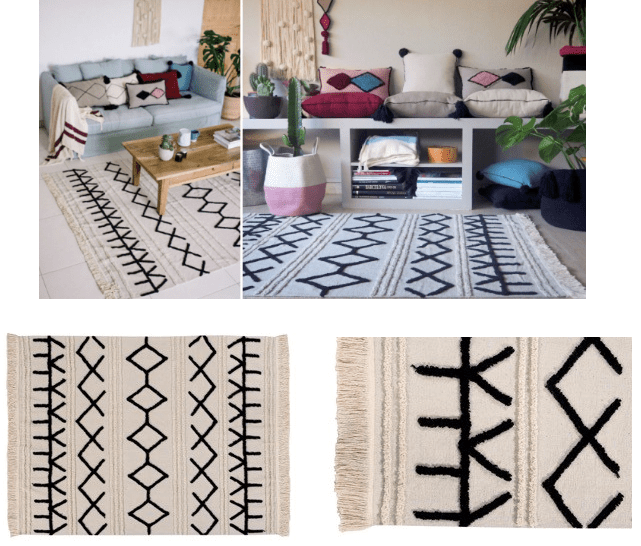 The Sea- Discover a fascinating world under the ocean!
A big fish of different textures and the ocean shore from any paradisiacal place are the main characters in this new Lorena Canals collection inspired by the Sea. Both for children and grown-ups, these rugs and accessories made from different sewing techniques are the perfect touch of freshness for any corner at home.

Designs include Big Fish and Ocean Shore.
You can match these rugs with the washable cushions, wall decor and the original "Sea Sky" that Lorena Canals is launching simultaneously and that are part of the whole Sea Collection.
Hippy Stars
The famous stars join vintage styles and come back more renewed that ever!
Lorena Canals new collection is inspired by one of the children's collection bestsellers: The Stars. We have given this design a fresh look by playing with a mixture of woven and non-woven areas of the design. These rugs and their matching accessories available in soft, subdued colors will give a vintage and luminous accent to the home decoration.


Designs include: Aqua Blue, Vintage Nude, Stars Natural and Stars Grey.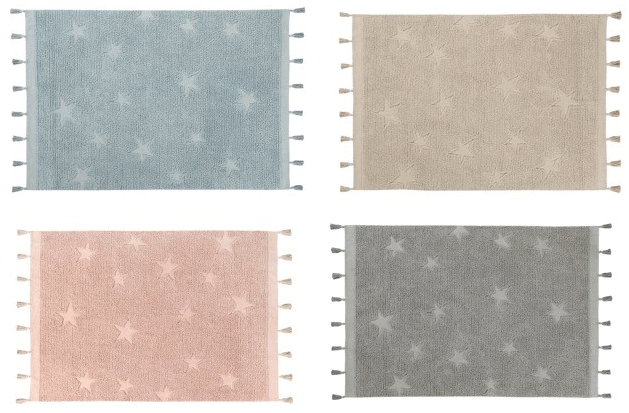 You can match these rugs with the knitted blankets made from cotton and part of the whole Lorena Canal Hippy Stars Collection. They are available in 3 colors: natural, vintage nude and pearl grey.
Lorena Canals eco chic rugs are machine-washable and easy to clean. Each rug is individually, carefully hand crafted making each one unique and no two are alike. They are lightweight for easy moving and are soft and cozy, bringing warmth and sweetness to any room. The rugs are made with non-toxic dyes and with 100% natural raw materials.
Lorena Canals is the founder of the Spanish lifestyle brand by the same name and is making her eco-mark in the North America with gorgeously designed, eco-friendly and exceptionally-made, washable rugs and cushions in adorable shapes, designs and colors. They are also all natural, hypo-allergenic and functional.
Visit their website at www.LorenaCanals.us.