Wondering whether a childbirth class is necessary? With the internet, blogs and opinions, women now have lots of places to turn to get their birth questions answered. But are they missing something?

The Truth About Childbirth Classes
The simple truth is, no you don't have to take a childbirth class. But the real question is should you? And the simple truth is…probably. Unless you are a birth expert yourself, taking a childbirth class is going to be in your, your birth partner, and your baby's best interest. How? Let me explain.
While birth is absolutely a normal physiological process of the female body, birth is also something that used to be a much more supported time in a woman's life. Slowly our society has migrated away from a supported and educated birth atmosphere to a more stringent, hospital-paced event.
Modern healthcare saves countless lives every day but understanding your innate ability to birth will help your labor and delivery to progress faster, easier and with less pain. Who doesn't want that?
Attendance in childbirth education classes have dropped for several reasons while at the same time inductions, c-sections, and use of the epidural are on the rise. Pop culture has decided that women don't need birth education and all they have to do is show up to the hospital, get "plugged-in" and that's that. However, this has lead to a lot of birth regrets and even birth trauma. Birth education is important and necessary so you understand your options and are fully educated going into labor.
Now, not every childbirth class is the same. But, I think it's so important for mothers and couples to at least greatly consider enrolling in a quality, evidence-based birth education class.
Not All Childbirth Classes are Created Equal
When looking for a childbirth class, there are several things to look for that make a childbirth class worth your time and money investment. When looking for a good birth education class:
1. Don't Take a Hospital Class
Why? Several reasons. First, most hospital classes are designed around being a good patient at their hospital and rarely around your innate ability to birth. Lots of hospital classes also mostly focus their education on all of the pain medications and interventions they can provide you because…well…money. Second, if you miss a class, you miss the information. Third, hospital classes will brief you on what will happen to your body rather than empower you in knowing all the your body will do an how you can help it to bring your baby into this world. Fourth, classes are often large. Fifth, they are also often taught by un-qualified individuals who may not be able to answer your questions truthfully.
2. Education Centered on What You Can Do
Your body was made to birth your baby, plain and simple. Find a class that believes that, too. This way, you'll be educated throughout the class on decreasing your fears around birth, learning tangible ways to prepare your body for labor, and so much more. This type of birth education is becoming more and more rare so that's why it's really important to do you research.
3. Understand the Birth Process
The more you understand everything your body is going to do to give birth, the more you'll be able to work with your body during labor. This leads to less pain plus faster and easier labors! YAY! Find a class that teaches you the birth process. The exact things your body and baby's body are going to do and how you can play a role.
4. Time
Lots of in-person classes spend lots of time during the classes playing games and introducing the group etc. While community is very important, you really want to attend a class that focuses on teaching you about birth and not just a general overview.
A Good ChildBirth Class
So to answer your question, "should I attend a childbirth class." I believe so. But, you have to attend a good one!
A good childbirth class will:
1. Answer All Your Questions
Lots of in-person hospital classes don't have any follow up as you approach labor. A good childbirth class will teach the concepts and support you throughout your pregnancy and leading up to your birth. This gives you the ability to ask any questions so you feel empowered and supported as your due date approaches!
2. Give You Confidence
Lots of women I have talked to over my years of childbirth education will say they felt more scared to give birth after taking their childbirth class. AH! This hurts my soul, literally. A good childbirth class will give you the tools, resources, support and education necessary for you to feel completely ready to give birth.
3. Let You Practice
Practice is so important. A good childbirth class is going to provide you with materials, videos, lessons to continue practicing up until your labor begins. This will give you so much confidence and truly allow you time to implement and soak in the material so you can actually utilize it during labor!

4. Provide a Community
You should have a place to ask questions and find support throughout the rest of your pregnancy. As you continue to go through you childbirth class, you'll be able to ask questions and have support leading up to your birth and beyond.
Get 50% off of your course and use the code TWL50
5. Teach Evidence-Based Info
You may be surprised to find out that lots of research isn't included in birth education classes. A good childbirth class is going to show you the entire spectrum of your options based on safe, evidence-based material so you can make an educated decision on how you want to birth your baby. No matter if you want an epidural right away or are going completely natural.  You need to know the signs of labor and when to go to the hospital and the pros and cons of natural vs medicated birth, you need to know all the facts.
6. Be Online
More flexible to coincide with your busy life, more support, answers to all your questions, and you can refer back to any module and practice along at any time. Instead of just attending 1 class and having to remember everything and work on it by yourself at home. Online gives you the ability to learn and engage around the clock!
7. Be Affordable
Simply, every mama deserves to have quality birth education that doesn't cost an arm and a leg. You shouldn't have to whip out your credit card and go into debt just to learn how to give birth. Every woman should have access.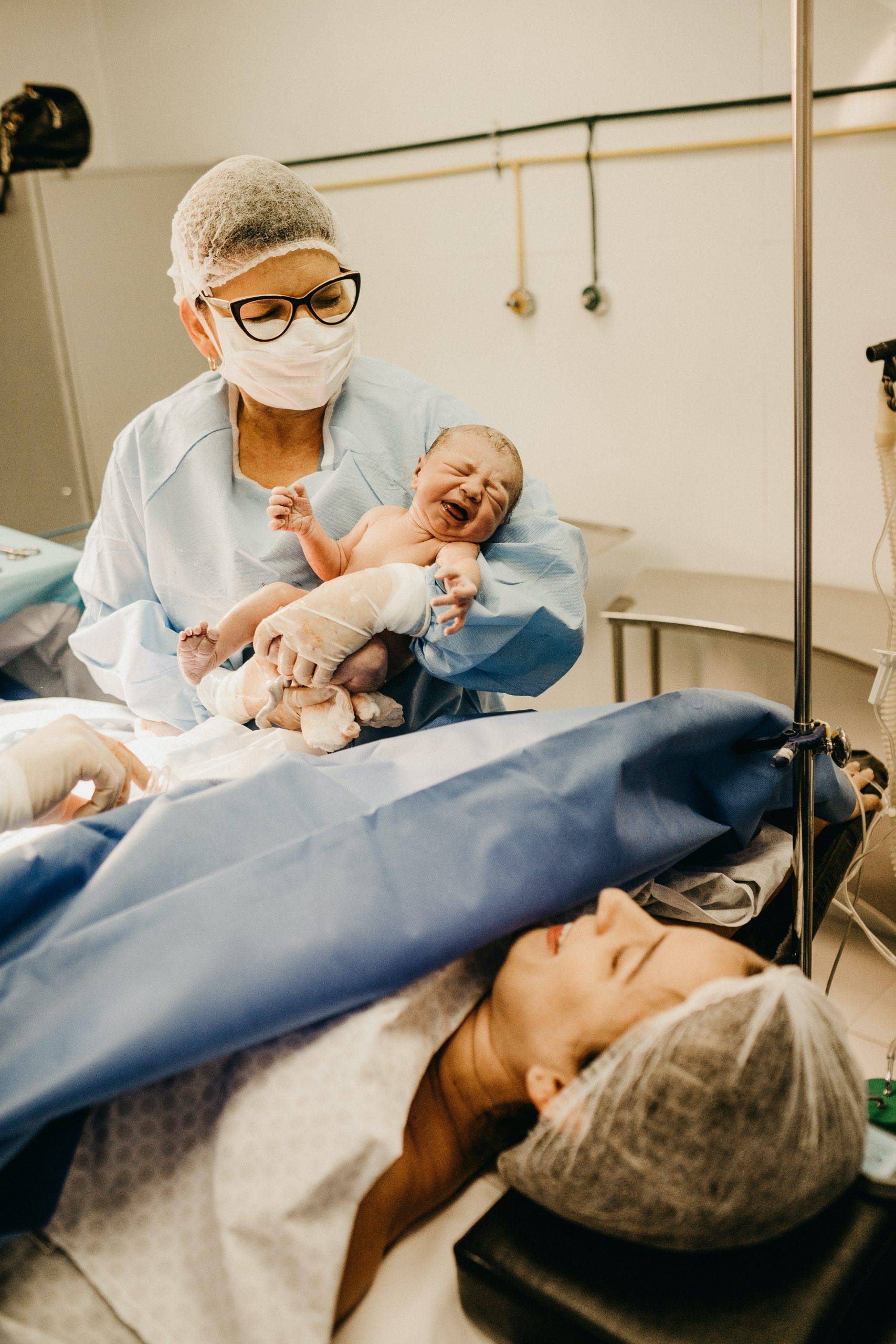 Benefits of Taking a Good Childbirth Class
Decreases chances of unnecessary medical inductions, c-sections, birth trauma, and birth regret
Increases chances of your birth plan actually happening
Lots of support throughout pregnancy, leading up to birth and beyond
Evidence-based birth info, not opinion or here-say
Your partner will know how to support you through labor
You will know how to manage contractions, push, and breathe throughout labor leading to less pain
Understand your birth options and the pros and cons so you can make informed decisions before in the heat of labor
Bring you peace, decrease your fear around birth and give you confidence in your body
Put together your best birth team like having a doula etc.
"How Do I Find the Right Childbirth Class for Me?"
Google is your best friend when it comes to finding local childbirth classes taught by local midwives, doulas etc. However, there are also lots of really good online childbirth classes too. There isn't just one right way to birth so finding an online class that provides the evidence-based birth education, support, community, and information on your birth options, choosing the right ones for you and also how to give birth is probably the best place to start.
My Favorite Birth Course
Of course, I am a little bias, but my favorite online birth course is Let's Get Ready to Birth. As an OB nurse and mama to three young babies and passionate childbirth educator, my goal with this online childbirth class was to bring you the truth about birth education.
Let's Get Ready to Birth Course
I poured my nurse-heart and mama soul into every module. Having had a medically filled, poor birth experience with my first to an all-natural hospital birth with my second and lastly an all-natural home brith with my third, I put all my birth knowledge inside so you can achieve whatever your dream birth is.
Whether you want the epidural or a home birth, the tools, knowledge and resources inside this course will give you everything you need to achieve your dream birth, a birth with no regrets.
Get 50% off of your course and use the code TWL50
The course includes:
Comprehensive Curriculum:
Over 7 modules of text and video instruction all centered around teaching about birth. The ins and outs, the well known and the secrets! The course is completely on-demand with lifetime access, unlimited support and the ability to learn on any device, anywhere with internet! The course takes you through everything you can do to prepare for your birth, birthing your baby and even into postpartum healing. You will understand your birth options, how to form your birth plan, and how to give birth easier and faster. There is also an entire bonus masterclass on breastfeeding!
Access the course for life, anytime, anywhere. Watch on the couch in your pjs with your spouse or on the elevator on the way to a meeting (just make sure your earbuds are in 😉
Inside the course you'll be able to ask any birth question throughout your entire pregnancy and even access to postpartum help and support for after baby arrives.
Go through this with other mamas, in your exact same position from all over the world. Share your wins/fails, concerns/joys all together in a safe, positive environment!
Inside the course, you will also get access to the course workbook, breastfeeding basics masterclass, a 100-page e-book on healing postpartum and caring for your newborn, a beautiful printable pregnancy journal, and the Labor Room Survival Guide.
No Matter What You Decide To Do…
No matter what route you choose to go, do yourself, your birth partner and your baby a HUGE favor and  be sure to take a quality childbirth class. If you don't you'll increase your chances of birth fear, birth trauma, birth regret, more unnecessary medications and medical interventions and possibly a poor memory of your birth.
You deserve to have an amazing and beautiful birth experience. So many women nowadays have a beautiful birth plan in mind but don't do anything to prepare which leads to regret after birth.
I have never met a woman who regretted learning about birth. It is truly empowering and the most important step in achieving your dream birth and having a beautiful birth memory.
This post contains affiliate links and I may receive a commission, at no additional cost to you, should you purchase through one of my links. Please see my disclosure for more information.