Glasses wearing is kind of the new trend. There probably are more people than you have ever seen before wearing glasses. Do you know why that is? Because of the amazing new styles that companies have put out for us glasses wearers to showcase. The type of glasses that you wear every single day has become a sort of statement. This is why you see people who don't actually need glasses, wearing glasses!
Now, for my fellow glasses readers, you know the important things you are looking for when searching for new glasses. The color, the weight, the shape. Then you want to know how they fit on your face and what looks good. Glasses are something that you are wearing every day regardless of what outfit you are wearing.
Warby Parker has a great collection all year round. Every season they open up with a new style and completely worth checking out each season. The colors and designs seem to just get better every time. Below are the newest Warby Parker spring collection glasses:
Warby Parker's spring collection has some really gorgeous designs. The spring collection brings out earthier hues to help warm you up from the cold! The spring collection is the start to the countdown to spring! The designs are light colored, fresh and kind of goes with the transition from winter to spring across the country! This collection focuses on
Warby Parker Framework Collection .
Bell Frames
The Bell frames are easy to wear and lightweight. Even though the frames are larger, the lenses are made thin and light for when they are sitting on the nose. These are perfect for moms for distance and reading.
Hughes Frames
The Hughes frames come in different shapes and size perfect for many different shaped faces. The square lenses present a studious look for those wearing them. These frames are also lightweight and greats for distance or reading.
Nora Frames
Nora frame is the perfect frame for any outfit. The light color makes them go with just about anything! They come in Rose Gold or Brushed Navy colors. Each of the frame is made of stainless steel and both are a little round and a little square.
Vaughan Frames
Vaughan frames are perfect for both men and women. These medium shaped glasses offer the well-polished look for both sexes and made from lightweight material.
Brushed Navy Nora Frames
Just like the Rose Gold glasses, these are offered in Brushed Navy for women if they're looking for a dark color. Nora accentuates your eyes in a sharp manner. They are handmade and fit perfectly for distance or reading glasses.

Try on at Home & Send back
Buying glasses online have never been easier! Warby Parker provides this amazing service that you can take a quiz online to meet your glasses personality. It will give you the choices of glasses that will fit your liking. Now the zinger is that they will send you 5 frames to try on at home for free with demo lenses. Then you have 5 days to try them out and send back. You can upload your prescription and without even leaving your house, you can order new glasses! Technology is pretty amazing.
Make the decision
Making the decision to buy a pair of glasses is not the same as buying a necklace, a watch or a scarf that you just take off at the end of the day. Your specs are utilitarian & an everyday necessity! Every day you wake up & spend the time to do your makeup, you should be happy & proud to put on your Warby Parker's to compliment your look, not take away from it!
Check out their new spring collection glasses today!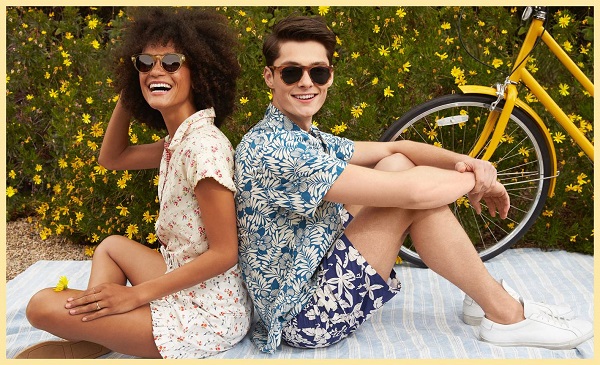 This post may contain affiliate links. Please visit my disclaimer page for more information.