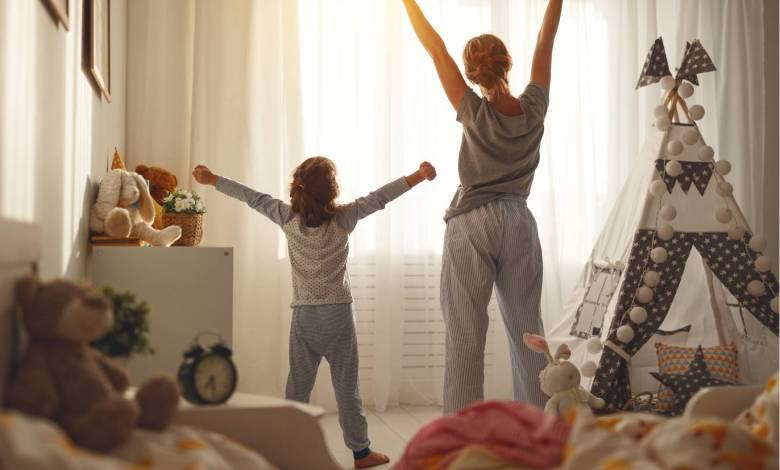 As parents, we're led to believe that certain things are inevitable, including sleepless nights and, as we'll discuss here, stressful mornings. Media portrayals of parents who turn up at work with breakfast in their hair and slippers still on certainly don't help in this respect and, in many cases, parents of young children, don't even try to have a peaceful morning routine in place as a result. Luckily, it doesn't need to be that way.
Unfortunately, we're not here to tell you that mornings are going to return to the serene experiences of your pre-child days. We are, however, here to tell you that there are ways to at least find a middle ground, and making that happen simply requires the implementation of the following surprisingly simple pointers.
Step 1 – Always have a plan
As parents, we get used to planning everything down to the last little considerations, be that our packing list for the daily nappy bag, our work schedules, or even our sleep patterns. Unfortunately, with most parents treating the morning routine as a means to an end rather than a daily event in itself, most of us completely fail to apply our planning expertise to this area, and we soon pay the price for it.
After all, bathroom free-for-alls and last-minute breakfast prep are guaranteed to get those stress levels rising for everyone, creating arguments, and a generally negative environment first thing. By planning for different bathroom schedules, pre-prepared breakfasts, and even a time by which you should all be ready, you'll be far better able to at least reduce those morning clashes, and ensure that your mornings forever move towards a predetermined time and end point.
Step 2 – Do what you can the night before
The chances are that you're so tired from work and parenting come the evening that you just want to chill out in front of the television and not think for a while. But, as unappealing as it may be at the end of the day, it's also well worth sparing just a bit more energy to put all possible preparations in place for the morning.
Also, the most obvious example of this is most definitely to prepare breakfast things in advance so that you can reach right into the fridge and put them straight on a plate. Equally, you might want to do what you can to minimize your morning routine so that you have more time to worry about everyone else, either by taking a bath before bed (which isn't a bad thing!).
Or even by learning crucial tips like how to do a hair wrap before you go to sleep so that you're able to get straight up and look effortlessly ready to go. Even just writing out your morning to-do list while you binge-watch your latest favorite series before bed can make a huge difference for smoothing out the kinks in your mornings at long last.
Step 3 – Set your alarm ahead of the kids
For parents who have to deal with regular wake-ups well into the toddler years, it's not unusual to use the kids as an alarm call, meaning that you likely get straight out of bed and go to sort them out before even thinking about yourself. As well as creating a lazy morning vibe that may halt your routine a little, this can do real damage to your initial morning headspace, making you feel immediately rushed, and altogether skipping the self-care part of your day.
As unappealing as it might sound right now, it's therefore worth setting your alarm for around half an hour before the time that your kids tend to wake up. By buying you a little time to get dressed and ready, and perhaps even have a sit down with a coffee, this time is guaranteed to make a huge difference to your mental wellbeing not just during your morning routine, but across your entire day.
What's more, being able to get your morning priorities in order ahead of time ensures that you have way more time and headspace to worry about what's happening with your kids each morning. Just make sure that you head straight downstairs when your alarm goes off so that you don't inadvertently wake up the rest of the house during your so-called quiet time!
Step 3 – Give your children some responsibility
As moms, we often take the helm on every single morning responsibility, assuming that our kids are either unwilling to take on those tasks themselves or that they'll majorly slow progress if we do give them any responsibility here. In reality, though, even if your kids take a little longer getting their own cereal, the fact that this handing over of tasks buys you more time to get on with other things can still make it worth your while.
Of course, it is important to exercise moderation here, and understand that small responsibilities, like getting themselves dressed in pre-chosen clothes or choosing their cereal out of a selection on the table, are probably the extent that young kids can go to here. That said, the lessons they'll learn through doing these things every day could soon see them choosing the outfits that they get dressed into, or even going to the cupboard to prep their breakfast from scratch by the time they reach 10 or above. And, when that happens, you can guarantee that mornings will finally become manageable again!
Step 4 – Share morning tasks with your partner
It's also worth noting that, as well as giving some morning chores to your kids, you should make sure to share the morning responsibilities with your partner. It may be that you each take turns looking after the kids while the other gets ready, or that you both tackle mornings together to get things done faster and with less fuss. In each instance, your life, and that of your entire family for that matter, is going to become a lot less stressful when mornings roll around.
If it helps, consider this benefit when you're writing out that much-needed morning plan, and make an effort to split your tasks or timeline down the middle. Then, you can each choose to either stick to your set responsibilities, or switch over every day/week to ensure that mornings remain fresh, exciting, and never feel like a chore.
Step 5 – Find a way to reach your inner calm
Ultimately, even the best stress-free approach to mornings with the family will leave you overwhelmed if you don't also take steps towards finding some semblance of inner calm every single morning that you have to deal with multiple children. After all, plan or no plan, there's a lot to get done here, what with getting everyone washed, dressed, fed, packed for the day, etc.
That's enough to overwhelm anyone, but you can make sure to keep your head above that water by simply considering something like morning meditation during your solo half-hour, breathing exercises, or even playing certain songs that keep you in a calm and happy place while you tackle the morning mountain. Get this right, and even a large family is unlikely to phase you when that morning alarm goes off.
We're not going to tell you that mornings will always be a walk in the park when you have young kids in the house, but they certainly don't need to be the stress-filled events that they've been up to now. Simply implement these pointers to see that for yourself!
This post contains affiliate links and I may receive a commission, at no additional cost to you, should you purchase through one of my links. Please see my disclosure for more information.