Do you love activewear for working out but you're always trying to figure out where to buy it from? Well, don't worry, we have you covered.  
TWL Working Moms is now selling Zyia Activewear!
I feel passionate about Zyia and their clothing line. Not only do they have amazing activewear for women but they also have activewear for men and children. From seeing my barre instructor wearing their clothing all of the time and having them in the studio, I started to buy their clothing a few years ago. 
Since then, I have not been able to find a better quality of material of activewear that I love as much! Fast forward to today, I decided it was time to start selling their clothing and getting the word out. Let's dig deeper into why! 
Here are just a few awesome examples of what you can expect over on our Zyia page. 
Womens Activewear
Kids Clothing
Mens Clothing
Sports Bra
Swimsuits
Visit our shop page to learn more:
Fitness is hard!
We know that getting into fitness is a hard journey, and without motivation it is almost impossible. So how can you motivate yourself to want to keep up with your fitness journey? Some ways are to make it routine, find a workout partner, get some awesome activewear, find a friendly gym, and take some classes to hold yourself accountable.  But seriously, who doesn't love to look awesome, especially when they are working hard to get healthy? It makes it a lot better when you have awesome activewear to help make that push to love fitness.
But not only just activewear. Their workout clothing keeps it all in place. This is really key when you are starting your fitness journey. The journey is hard, and we are SO hard on ourselves! We are our own worst critics and many times when we put on our activewear, it doesn't fit great and it is DISCOURAGING! I'm telling you, Zyia's clothing is not that way.  
Activewear that holds it all together
Since we are our own worst critics, (I definitely know this first hand!) you are going to want workout clothing that will hold everything together. Like we mentioned above, the fitness journey is hard! And when we wear clothes that make us look flattering, it gives us a little bit more confidence that might be needed to get ourselves to get to a gym. 
Anyone can wear activewear but not all of it is flattering and keeps everything in place, especially when you actually go to workout. Many times workout leggings will fall down as we are working out, leaving us having to pull them back up. Zyia has three different types of leggings: capris, ⅞ ,  full length and joggers. 
Not only do they come in amazing colors and patterns, but they suck everything in where it is not too tight that you can't breathe but enough to keep everything in place when it's important to be focusing on working out, not pulling up your pants. 
Why it's important to T.W.L
Our blog has a ton of health and fitness articles on topics like getting the most of your workout, healthy foods to eat, workouts to do at home, and everything self-care! Since I have had a major focus on working out and fitness, especially while being a working mom, I wanted to invest in something that I felt confident that other mom's like me would love. 
I wear their clothing all the time, it is kind of a summer staple at the moment and I am loving it! Not only do I feel great when I am working out in them but I love wearing them around too, so many people comment on how they love their leggings when I wear them! 
Zyia is female- founded and female-led  by two sisters. Zyia now generates over $10 million in product sales per month! And many people have not even heard of their clothing yet. With so many new products coming out every Wednesday, there is always something to look forward to!  On Wednesday's, they sell more than they do in one day than they did in one month a year ago! 
ZYIA is defined by four pillars that make up the brand and culture:
Light: something that makes vision possible
Activity: the quality or state of being active
Community:

A unified body of individual;
Common character, likeness community of interests;
Social activity, fellowship

Uplift:

To hold up or serve as a foundation or prop for;
To lift up, elevate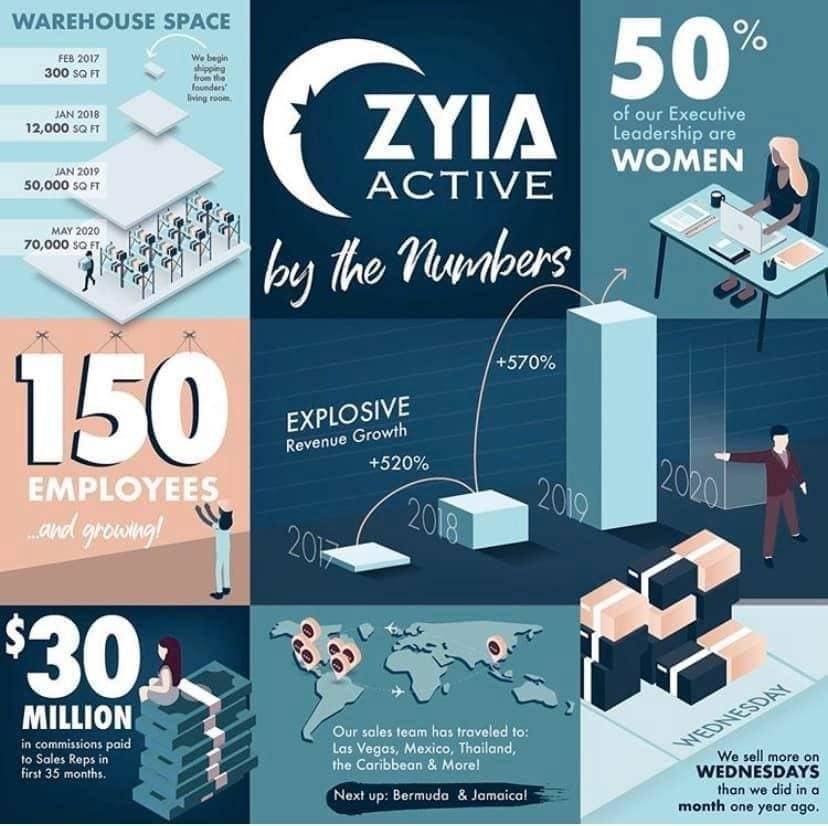 One of the main reasons I became a rep is because I love their clothing and was buying it all the time, so why not showcase it to others and make a little cash on the side? 
PLUS! 
I get a discount being a rep, so this further helps me with my activewear obsession! I wear all of the items that came in the starter kit AND it gave me a $100 gift card to buy whatever I wanted with my discounted price – I mean what a serious deal!? 
Also, I have been joining in on the group calls that the Zyia Facebook groups do and I seriously love everything they stand for. Everyone is so positive and everything about the company makes me want to be a part of it. 
So if you are interested to join as a representative for Zyia, click below
"Joining ZYIA right now is like striking gold." – Zach Bradley 
This post contains affiliate links and I may receive a commission, at no additional cost to you, should you purchase through one of my links. Please see my disclosure for more information.