Who does not wish to have fun beach trip with kids and family? Each one of us would like the idea. Wouldn't we? But, as a parent, you need to think of more than just beach towels and bathing suits.  Do not let the risk of sand-covered tots and sunburns stop you from visiting the beach with family.
Going on a beach trip with small kids means packing some extra essentials to protect them from the sun's rays.  There are so many things to carry, pack, and keep track of. You would not want to miss the splashes, giggles, and little toes in the sand of your kid. Right? 
And guess what? There are several ways to keep your baby safe on the beach and have fun at the same time. Following is a list of mom hacks to make the baby beach trip manageable.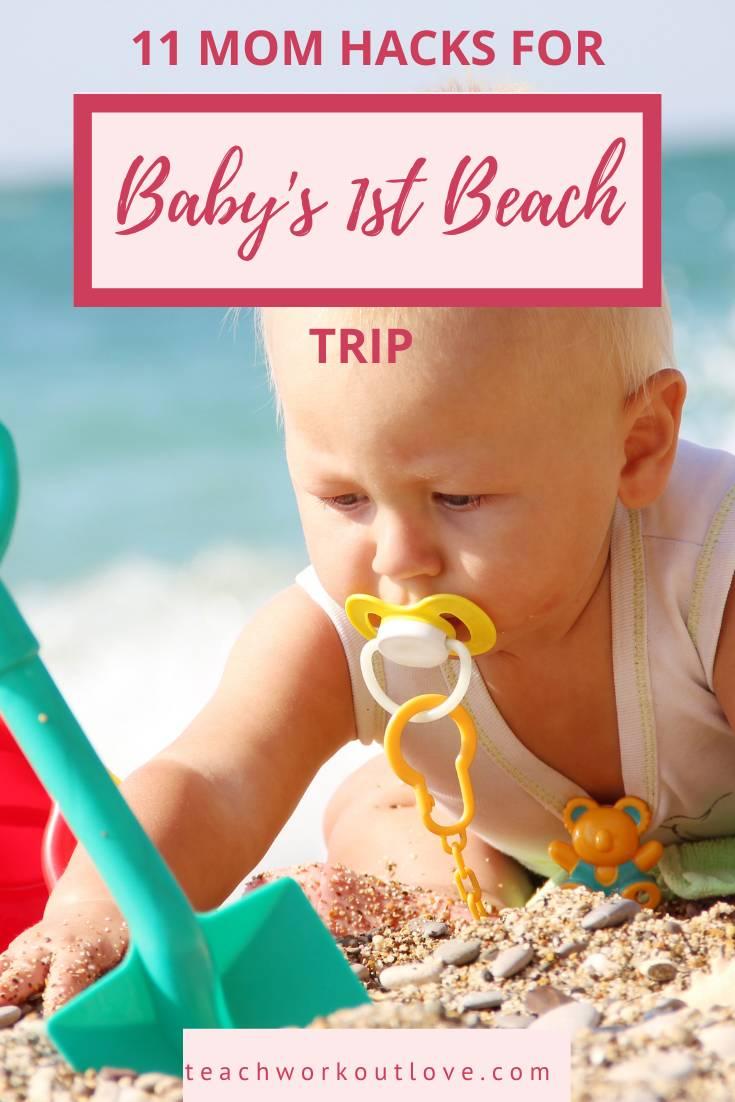 1. Pop-up tent
Are you planning to stay at the shore all day? Consider buying a small pop-up tent to provide convenience to the baby. The baby will be able to sleep in a cozy shaded place away from sand and sun. Check out our favorite tents at  EverythingMom.com to find the best for your child. 
2. Inflatable pool
Do not forget to pack a small inflatable pool along with a beach umbrella for shade. Let me tell you, some pools consist of an in-built shade to keep the baby calm and safe at the beach.  It is beneficial for crawling babies who put almost everything, including rocks and sand, in their mouths.
3. SPF timer 
You can set a timer on the mobile phone to be aware of when to reapply sunscreen to yourself and your kid. Ensure to cover the sensitive spots like the neck's back and tips of the ears. Set the timer to make you remind to drink liquids so that you are not dehydrated.
4. Laundry basket
How about the idea of packing your beach gear in a spacious laundry basket? Sounds great, isn't it? A laundry basket will store all the snacks, towels, toys that you wish to bring to the beach. The basket can double up as a play area or spot for the baby to take a nap in the shade.  
5. Pre-freeze snacks 
If your baby eats solid food, do not delay in purchasing and freezing food pouches and yogurts a night before the beach visit. They will help keep your baby cool at the beach and make your kid feel pleasant on the sore gums. 
6. Baby's hat 
Keeping your baby's sensitive skin safe from the sun's rays should be your top priority. Do not forget to bring a hat with a broad rim for your little one. It will cover the baby's head along with the neck and ears. And yes! Hats with a UPF+ sun rating offer excellent protection to the kid.
Place a few unopened water bottles in the freezer a night before your beach outing. The bottles will work as ice packs to keep your drinks and snacks cool. You will also have cold water for the baby to drink at the beach.
8. Extra towels 
Do not forget to bring extra towels to warm up a wet kid's body. Also, keep an extra hand towel for the baby to wipe off sand. If the baby's body is wet or sandy, you can place an extra hand towels on the car's seat before making the baby sit in the vehicle to make the ride home comfortable.
9. No need to carry the diaper bag
Wondering how you will manage without a diaper bag? You can avoid carrying the diaper bag  to keep it free from sand. Instead, you can buy a king-size beach bag and make use of a reusable bag for wipes and diapers. Remember to pack a few plastic bags to place soiled diapers.
10. Dig a hole
You can use the baby's shovels to dig sand at the beach for the baby to sit and play. The sand in the hole will be more relaxed as compared to the sand exposed to the sun. You can also create a baby-sized chair in the sand.
11. Bedsheet
A bedsheet will be quite useful to create a play area for the kid. You only have to turn a fitted bedsheet upside down and place a bag in each of the four corners to extend the sheet. The sides will act as a barrier to the sand and enable your baby to explore the seashore. 
Conclusion
The above beach baby tips will not stop you from enjoying yourself with your beach and kids.  The information will save your time and energy in packing. These will help to do the packing and organizing things appropriately and keep them manageable.  Have fun with your little one! 
This post contains affiliate links and I may receive a commission, at no additional cost to you, should you purchase through one of my links. Please see my disclosure for more information.