Every day in February, we are celebrating the 28 Days of Mom Love with bloggers across the globe. Make sure to come back and check out our posts every day this month! Click here if you missed one! 
---
My mother always talked about how my birth was so traumatic for her and how the birth was so painful and difficult. I never understood what she meant or why she would keep talking about it until I had my first, 4 years ago in November 2013.. I have since had 2 more kids and 1 miscarriage and I can absolutely related to what she felt now.
No matter how we think that it doesn't relate, it really does. There's a saying by Ina May Gaskin (below), which is exactly why I personally truly believe my births shaped me as a mother and as a person.
I sadly had C-sections for all my births after long labors (you can read my birth stories here). I didn't realize how much of an impact they had on me until I got pregnant with my 3rd child. Not having given birth naturally I know I wouldn't be given a chance to VBAC and I feel that in itself is such a blow. We are MADE to push our babies out, so why are we not given that chance. Why are we not given the chance to hold our babies and bond with them after a horrid C-section (no matter how gentle or traumatic)?! Why is it that when we want to try we get looked at like we are crazy or told "hey you couldn't do it the first time, I don't think your body can do it now".
I so wish I could have had my "healing" moment during birth but I didn't so I have to try stop going over the what if's and work on my thought process. Having had 3 C-sections I feel like each time it has taken a part of me away and turned me into an anxious, stressed and sometimes not in happy spirits and easily irritable by life or my children. I love my children immensely, but I do wish I got the births I wish for. That itself eats at me every single day. Which is why I advocate for natural birth if you are able to. Even if you have to get an epidural, don't let ANYONE bully you into thinking you can't do what your body is made to. There is NO reason you can't try. This inspired me to create some free printables. You can download your very own Birth Plan & Free Birth Preparation Check List through the blog website. http://www.throughmamaseyes.com/emotional-journey-vba2c-vbac/
So if you are pregnant and preparing for your birth, please try and incorporate the above and make sure you find a supportive provider that will allow your body to do what its meant to do.
About the Author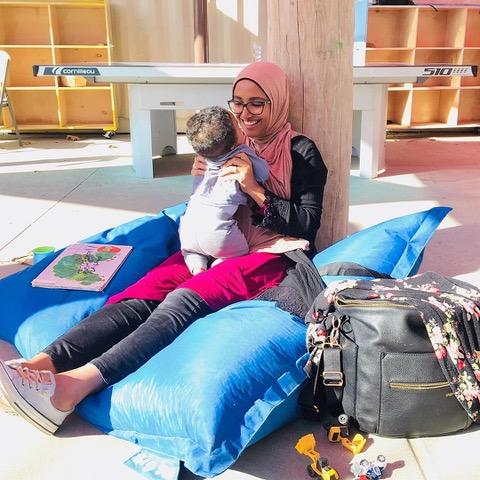 Afra is a wife & stay at home mom of 3 (aged 4, 2 & 4 months).  She uses her experiences as a mother and an entrepreneur to connect with & support mothers in their journey as new moms, moms with young toddlers and moms who want to work from home. She loves keeping it REAL and talking about managing birth, breastfeeding, managing motherhood, toddler tantrums, teething, baby wearing, life as a work from home mom (previous corporate world workaolic), the best products for babies, to toddlers & moms.
Blog: www.throughmamaseyes.com
Instagram: www.instagram.com/throughmamaseyes.com
Pinterest: www.pinterest.com/thrumamaseyes
Facebook: www.facebook.com/throughmamaseyes