Summer is around the corner! Who's excited? Are you?
There's supposed to be a lot to do this summer– beach parties, road trips, outdoor barbecue parties. However, the pandemic has reduced the chance that these planned activities will go through. Although these may not happen to protect ourselves and others, it does not mean you cannot enjoy the season. Take advantage of the weather, go outdoors, soak up some sun in cute summer outfits.
It is the season to wear shorts, dresses, and tank tops. But as you enjoy wearing these casual, cute outfits, do not forget to wear a face mask and take proper precaution. Maybe you are tired from the casual pajamas and track pants over the quarantine. For a change, try wearing shirts and shorts, dresses, or any classic casual outfit you are most comfortable with this summer.

1. White Top
A white top does not go out of style, it is in front of the seasonal casual style trend. The white shirt does not absorb the summer heat. You can wear it casually around summer– white top and jeans ensembles a cool factor for casual looks. 
2. Tank Top
A thin-strapped tank top is definitely a head-turner for a casual look for summer. You can pair it with high-waisted jeans or denim shorts to make it more summery. 
3. Lightweight Sweater
Although winter is over and the sun is out, you can never go wrong wearing a lightweight sweater to keep yourself warm from the summer breeze. You can pull off an oversized sweater for your casual look this summer.


4. Knit Trousers
If you plan to stay inside the house for summer– it's a good reason to stay safe. You can wear these comfortable knit trousers and match them with a loose shirt or a long-sleeved top to make it more comfortable. You do not have to worry if you have to run a quick errand outside, this casual look is enough to keep you cool under the summer heat.
5. Track Shorts
Go casual with sporty shorts. You can throw on with a pair of sneaks to make you look more casual and comfortable under the summer heat. 
6. Vintage Tee
You can have an effortless look with a vintage tee and high-waist jeans for your casual summer style. Look cool with timeless pieces in your wardrobe.
7. Jumpsuit
Since you have been wearing loungewear lately, redefine it with a loose fit jumpsuit that you can casually wear anywhere! Jumpsuits are perfect for warmer days, pick a vibrant hue to keep you cool this summer.
8. Mini Dress
Go casual with mini dresses with playful patterns. A mini dress is perfect for swimsuit cover-ups. You can pair it with a fashionable sandal and tote bag to complete the casual look. 
9. Romper
One-piece makes it easier for you to get ready. Pair it with two-strap flats or sandals to make it more casual and you are ready to go!
10. Cropped Top
Crop tops never go out of style for casual summer looks. It is the biggest trend during summers! Make it work for you with high-rise jeans or a knitted trouser. Anything that will make you feel cool and comfortable under the summer heat.
11. Midi Skirt
Midi skirts can be your best friend for casual looks this summer. Its lightweight material will keep you cool during the season. No matter the skirt style, it will still make you look casual. You can pair the midi skirt with a white top, cropped top, and trade in for flats or slides.
12. Short Overalls
Do not underestimate the cool feeling a pair of overalls can give for your casual summer look. You can pair a white shirt underneath to make it look more adorable.
13. Ribcage Shorts
You can casually wear a wrap or crop top with a pair of classic cut-offs. Pair the outfit with gladiator sandals. There's no doubt that you will love this summer outfit. 
14. Wide Leg Jeans
You can never go out of style with a pair of wide-leg jeans and a vintage tee for your casual summer look.
15. Jersey Shorts
Jersey shorts are the best option for those who love to go out for a sweaty workout. They are also adorable when paired with oversized shirts or crop tops. You can have a quick coffee joint around your neighborhood after your yoga session.
As the summer days get hotter, you have to prepare your casual summer outfits to keep you cool this season. It's also the season for your wardrobe to change. But, before you switch your clothes and transfer the seasonal clothes into another storage, there are important things you need to do to keep them safe during their hibernation.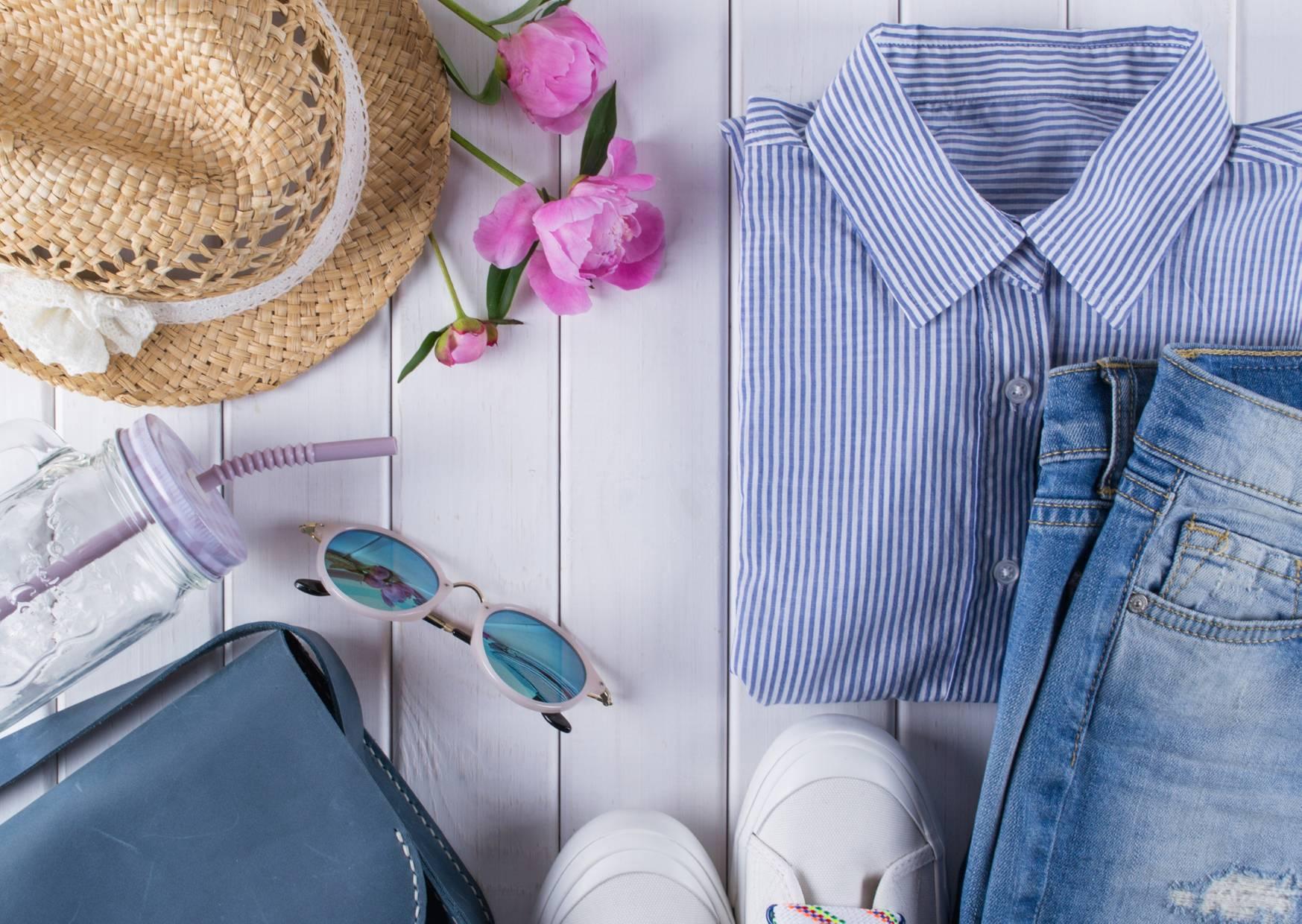 What to do before storing clothes?
You can assume that the clothes you are about to put away are clean. However, there might be unnoticeable stains or discolorations that you are unaware of. It will take a couple of months until you have to use these clothes again, and by that time these stains have already set on your clothes. That's why it is important to dry clean your clothes before putting them away.
Dry cleaning has three benefits in clothes:
Avoid insect infestation:

Pest infestation can cause permanent stains and discoloration on our clothes. It happens when clothes are not properly cleaned and they are put in storage for longer periods. If you have your clothes dry cleaned, the insects will have a low chance of survival.
Maintain the freshness of clothes:

The existing smell on your clothes will grow stronger if you immediately store them. Keep them fresh by handing them to a professional dry cleaner.

Remove unnoticeable stains and discoloration:

Dry cleaning will remove unnoticeable stains and discoloration on the clothes. Prevent unnoticeable stains to set on your clothes.
Lastly, when you store seasonal clothes, do not vacuum seal them. Let them breathe as it may result in permanent warp and damage to your clothes. Moreover, use cedar balls instead of mothballs. Although they are both repellents, cedar balls are a natural option that is safe for your clothes.
This post contains affiliate links and I may receive a commission, at no additional cost to you, should you purchase through one of my links. Please see my disclosure for more information.