Gifts are more meaningful when they're made with your own two hands. Of course, they take more time and effort than just popping to the mall and splurging, but homemade gifts so much more rewarding for both you and your lucky recipient.
Rather than grabbing a store-bought gift this year, try your hand at one of these crafts. Since you put your heart and soul into making them, they're sure to be used and treasured. Especially the edible gifts—those might even be gone before New Year's Day!
We've put together our favorite homemade Christmas gift ideas for all ages. These are fantastic gifts for your kids, partner, relatives, or coworkers. They're a blast to make, and you might learn some new skills in the process!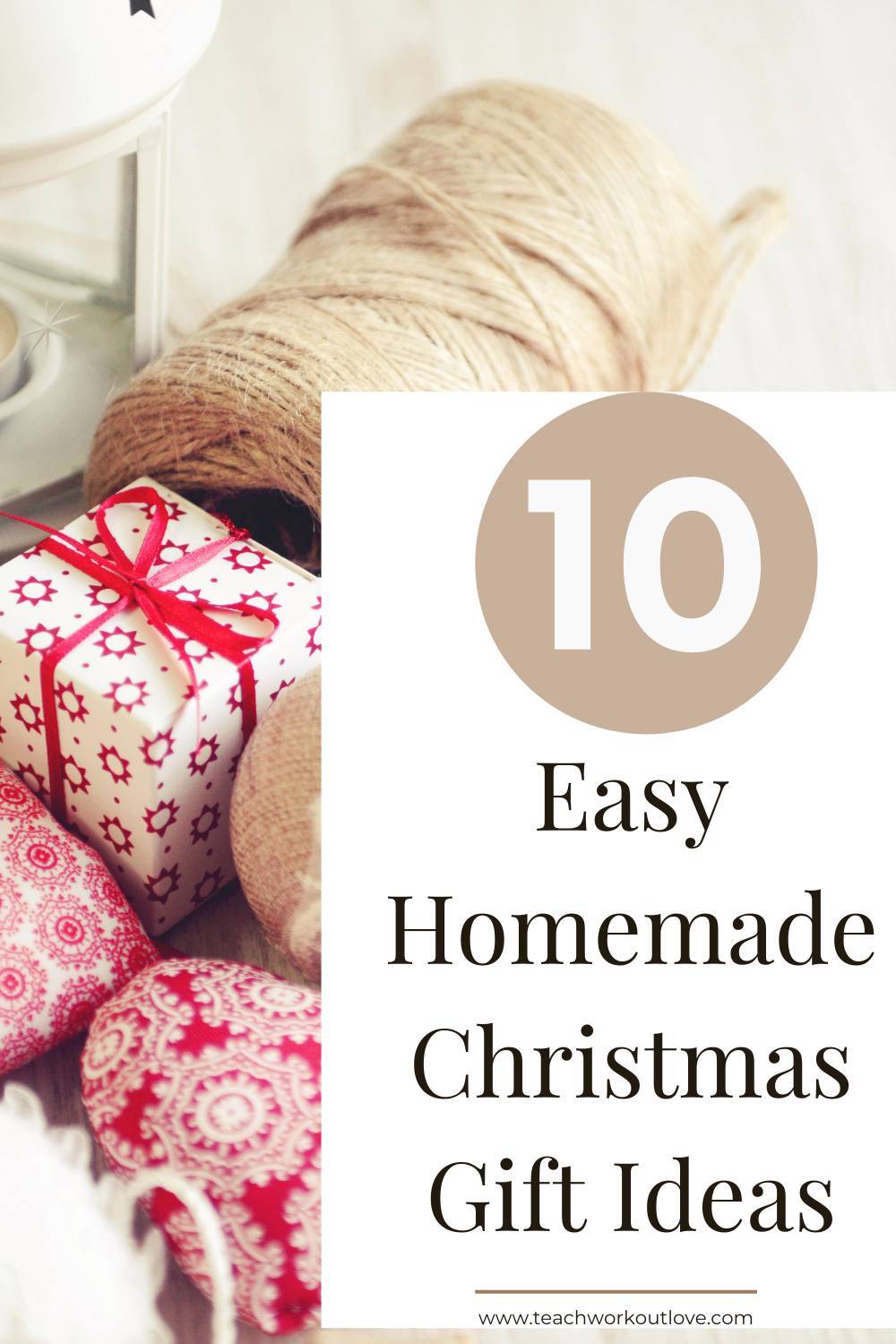 Making homemade bath bombs is much easier than you might think– and it's fun, too! Make your DIY bath bombs holiday-themed by using this delightful peppermint-scented bath bomb guide. All you need are some simple ingredients you can find in any grocery store or on Amazon, as well as any fragrances and/or essential oils you want for the perfect aroma. What makes this craft extra special is the fact that you can use whatever mold you like, from heart shapes to stars to classic spheres. They make a therapeutic, thoughtful homemade Christmas gift for anyone who likes a bit of pampering in their life.

Resin Christmas ornaments are beautiful and unique, but they're deceptively simple to make as gifts for friends and loved ones. If you've never used resin before, don't worry—you don't need much to get started. First, assemble your materials, which include silicone molds of your choice, tools to handle the resin, colorants, and the resin itself. Next, follow this simple tutorial to put the ornaments together and add your own creativity to the mix. These make for great gifts and a great crafting day during the holiday season.
Quilting tends to turn into an addiction for a lot of crafters because it offers endless opportunities and varieties. Hand sewing is much easier than most people think, and if you have a sewing machine, quilting is a cinch. Once you have the basics down, you can quilt endless Christmas gifts and decorations– from stockings and tree skirts to festive blankets and wall hangings. They make beautiful and highly personal gifts for every season and occasion, so this is a skill you can take far beyond Christmas.
Have you ever heard of arm knitting? It's a funky, simple method of quilting that uses your arms and extra-large "thread" to knot a blanket together. It makes knitting a lot less fiddly, and it's incredibly fun! With extra-large thread and arms instead of needles, knitting this blanket will take less than an hour. If you get the high-quality thread, the end result will be a blanket that's soft, warm, and lasts for many years to come.
These creative recipes for dried soup mixes make for a thoughtful and delicious holiday gift that doesn't take too much trouble. All you have to do is measure out dry ingredients like beans, dried peas, bouillon cubes, and dried herbs, and then write the preparation instructions on the jar itself or an attached paper. This is also a great homemade Christmas gift for busy parents—anyone who's running a household and is familiar with trying to wrangle the little ones in order to actually cook will appreciate a night off.
6. Bobbleheads
Custom Bobbleheads make the best gifts, you can even make your own bobblehead just like the picture. And if you want to get your bobbleheads with the best price, just check out Cheap Bobbleheads.
Put a bit of love together in a jar and make someone's evening special! Like the above soup in a jar, a hot chocolate making kit is both festive and thoughtful. Fill these jars with all the fixins' you need–like candy canes, marshmallows, and extra chocolate candies– for an extra-special hot chocolate. Decorate the jar itself with pretty ribbons, personalized notes, and other cute decorations. (Jar decorating crafts are one of the most popular crafts on Google, so just do a quick search—we don't need to give you any tips on that front!)
This homemade Christmas gift makes a charming decoration for the holiday season and also smells absolutely divine. All the supplies you need are available at any local craft store or Amazon, and the candle making process itself isn't as difficult as it might seem. You can make them right on a stovetop, and the cleanup process isn't hard at all. This striped white and green design looks beautiful as part of a wintry centerpiece, so you can make them for your own holiday parties as well as doling them out as Christmas gifts. This is also an excellent gift to make in bulk to cover all the recipients on your list!
What better way to keep warm during the winter months than a handmade hand warmer? Hand warmers present an easy opportunity to be creative because you can choose any fabric, any cutting pattern, and any method of presentation you like. The secret ingredient? Rice. To use these reusable hand warmers stuffed with rice, just heat them in the microwave for about 30 seconds. They're a gift anyone with chronically cold hands will appreciate!
Aprons are easy to sew together and can be made from just about any fabric you find. They're useful for both cooks and crafters, and they're extra-special when they're made by hand by a loved one. You can easily personalize them to suit your recipient's personality—for example, a "kiss the chef" apron for a dad, a cupcake print for an avid baker, or a cute cow print for a farmer. Go nuts! Pretty much everyone on your list will appreciate this cute and useful craft.
Who doesn't love receiving a tin of homemade chocolate covered pretzels to munch on? They keep for a while, so you can make them in bulk in advance and save them in an airtight tin to give out around Christmas. They're thoughtful without being too personal, so they also make fantastic gifts for coworkers, teachers, clients, or anyone else you don't know too well. You're allowed to sneak some for yourself. We won't tell.
Running out of time or still not convinced a DIY gift is for you? Check out some of our other holiday gift guides to find affordable gifts for her or memorable, non-toy gifts for the kids!
This post contains affiliate links and I may receive a commission, at no additional cost to you, should you purchase through one of my links. Please see my disclosure for more information.