Organizing a riveting party for your little ones can be a challenging thing. With some many innovative ideas, games, props that are popping out each day, it is hard to rule out a single flabbergasting birthday theme, entertainment prompt, and decorative element that would make the party fun and memorable. However, planning the perfect kid's birthday party doesn't have to be nerve-wracking, on the contrary, it can be a thrilling process both for your kid and you. If you are still in doubt on how to achieve all of that without having to panic, here is the way to plan it all and keep your nerves.


Set up a clear budget
You might not be aware of this, but a firm budget is half of the work. Basically, you should plan a clear and concise budget and try to stick to it. When you know how much money you can delegate, you may freely organize all other necessities. Consider your total budget and delegate with the birthday options according to it. Don't be afraid if it seems low. There are innumerable fun and majestic things that you can get and organize with a low budget. Knowing your finances set for the party will make other things run smoothly.
Make a guest list and send out invites
It is vital to get your child involved in the planning, in the end, it is his party. Once you know your budget, you can with ease plan the rest, and inform your kids how much of his friends he or she can invite. Let your kid invite his/her best friends, however, when it comes to classmates or friends from sports, inviting "all" of them might be a mission impossible.
It would be the best idea to invite only the friend he/she is really fond of. Once you have made a guest list, send out invitations. Your child can write its own invites, draw something to make it more appealing. You can also send text messages to the children's parents as well.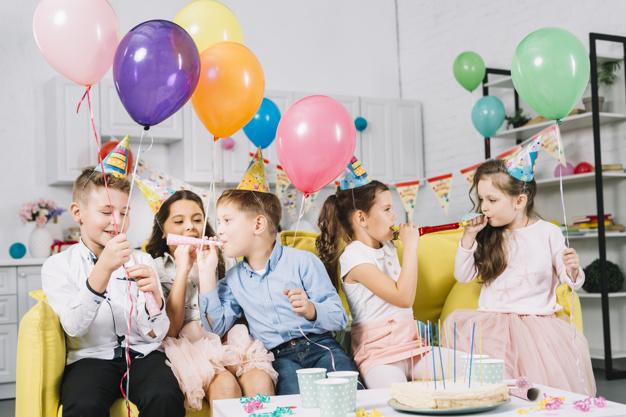 Boost up the entertainment
No matter the budget, you should strive to make your kid's party an unforgettable event. Every single child loves to play, but you might want to plan something totally genuine and make his/her birthday party stand out from all the others. An amusing idea would be to hire a comedian or a magician to entertain them for a bit, or you can create some games to spruce up the party like organizing a Birthday Bingo, trivia quiz, or scavenger games to satisfy their curiosity urge.
Nowadays it is quite popular to hire professional face painting artists. For instance, artists at Creative Faces use quality water-based, hypo-allergic paint which is important to know as a parent.
Opt for finger food
At a kid's birthday party, kids may not want to sit diligently and eat in abundance, they all usually prefer eating on the run. Many other things at the party will distract them, so you don't need to dwell much about what food to make or order, and rather go for quick and easy-made finger food. Consider making chicken tortilla wraps, pigs in a blanket, small sandwiches, and mini pizzas. When the food is looking fun and in small sizes, it will certainly be eaten in a blink of an eye. You can also place a variety of snacks and drinks. Don't offer too sugary sodas for the kids, but get lemonade, fresh apple juices and other still drinks. Only make sure that you serve food and drinks in paper plates and cups.
Order a superb birthday cake
Once you know the theme of the party, and when you have calculated how many guests will arrive, you can then order a cake. Call a local baker, if you are not skilled at pastries and fondant, and place your order in time. You had better know what your little one likes, what his/her favorite cake flavor is in order not to make a mistake. Kids usually prefer chocolate or strawberry cakes. If you have a specific birthday theme, you might want the cake to be in the same manner. In other cases, only make sure that it looks gorgeous and delicious.
Play some popular children's songs and have a blast as well. Take lots of pictures, sing the birthday song out loud, and don't take a smile off your face, and your kid will feel over the moon for having a perfect kid's birthday party.
This post contains affiliate links and I may receive a commission, at no additional cost to you, should you purchase through one of my links. Please see my disclosure for more information