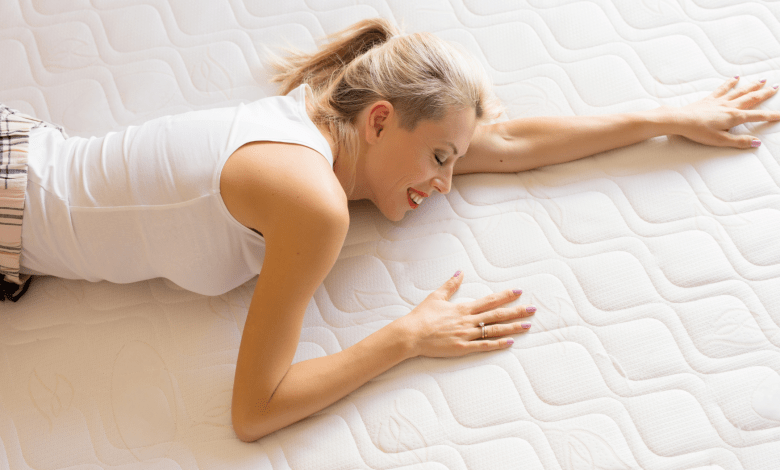 Getting proper sleep at night is important for you and your family. When you are a mom, you are constantly waking up at all hours of the night with kiddos so it is important that when you are sleeping, you get that rest. In such crucial times, you need a mattress that can relieve pressure from the sensitive areas. The right type of mattress can help to keep away discomfort and have an enormous impact on the quality of your sleep. Here are some of the best mattresses for tired moms:
Halcyon foam mattress by GelFoam Bed
Halcyon foam is the new technology of today for mattresses. Not sure if you have heard about Supportive Air Technology, but what it does is it increases the level of support without compromising your comfort. It helps alleviate pressure on the hip and back area, that is amazing if you are a tired mom! Because of this new technology, it has a reduction in pressure and creates more comfort, and helps reduce tossing and turning during the night.
Also, if your partner tosses and turns at night, then this is the best cool gel mattress for hard-working moms! You need your beauty sleep and Halcyon foam decreases motion transfer so you and your partner won't be disturbed during sleep. Does it get really hot in your room? Halcyon is not a temperature-sensitive mattress. Halcyon releases body heat so you sleep at a more comfortable temperature throughout the night – staying cool and dry.
Highlights
Enhanced with billions of microscopic air capsules

Supportive and reduces pressure on critical areas of the body
Support and pressure relief
Incredibly durable high-end viscoelastic foam
Less temperature sensitivity to keep you comfortable in any temperature
More responsive than memory foam
America-made using safe, non-toxic materials
Suitable for

The unique composition of the gel foam used in Queen mattresses gives long-lasting body support. It has various dimensions and is available in white color. It is ergonomic hence gives extra comfort.
The bodyweight gets distributed uniformly across it, so there is no chance of blood clots and restlessness. It helps to realign your spine, neck, and hips, therefore correct a poor sleeping posture. The improved airflow enables more breathability and durability. As a whole, it improves the quality of sleep.
Highlights
It is specially designed to give the utmost comfort.
Suitable for
Sweetnight Queen mattresses are made from 100% Natural latex rubber foam and are manufactured by the latest pin core technology. These mattresses are preferred for people of age groups. It has about 9800 pin core holes that provide very good air circulation and keep the body cool.
The products of Sweetnight are assured 100% not to produce heat, and they don't sag on usage. The good support provided by the mattress helps to relieve back pain and prevent back pain further.
Highlights
It has two side usable surfaces.
It is dust and mite resistant.
Suitable for
People of all age groups
Aged persons
People with orthopedic complaints
This dual comfort mattress has unique contoured foam, which provides excellent patient support. The two surfaces have two different feels in terms of hardness. One is medium-firm while the other is medium soft. So you can choose the best sleeping quality according to your requirement and changing weather conditions.
The unique contoured foam gives your neck and back support and enables you to have a restful sleep. The firm base of the mattress gives support to your spine. The mattress pushes you up less while you sleep, thus giving better comfort.
Highlights
It has therapeutic support surfaces.
Suitable for
Queen mattresses provide you with increased comfort. It gives support to your back and helps to relieve pain while soothing joints. The mattress comes with a medium-firm feel, which gives optimum support and comfort as it can adapt to your body weight and shape easily. It has knitted fabric that ensures breathability and keeps the layers settled. No matter what your sleeping position is, it provides the utmost comfort in all positions. It takes care of your back and knees while you are having a restful sleep.
Highlights
It has a medium-firm feel.
Suitable for
Tired moms
Aged people
People with orthopedic complaints
Mattresses of Avenco are therapeutic. They are designed specially to provide firm support to the entire body and give immense comfort.
The superior quality of the memory foam adjusts the body's contours and maintains proper alignment of the neck and spine. This mattress is ideal for tired moms and other people with orthopedic complaints.
Highlight
Suitable for
Avenco mattress has adjustable firmness. It can be easily switched from 12 to 14 inches by unzipping to add half split toppers. It is skin-friendly and breathable and It has pressure relief memory foam, which provides necessary support and comfort for a deeper sleep.
Avenco mattress has the property of motion isolation, which means that if one of the sleepers is a mover, the other sleepers won't feel it. The soft foam gives you a restful sleep with no disturbances.
Highlight
It has the property of motion isolation.
Suitable for
People of all age groups
The mattresses of JINGWEI are designed and developed to give you a good sleeping experience every day. It is made up of breathable material, fillings, and covers, which provides you with the right amount of firmness, softness, and comfort.
It is made up of 12-inch gel-infused memory foam, which provides you with 5 zone support. And It also helps to relieve back pain. Thus, it is perfect for tired moms and pregnant women.
Highlight
It is made of 12-inch Gel-infused memory foam.
Suitable for
People of all age groups.
This mattress has three layers all-foam system, 3 inches of memory foam, and 5.5 inches of base support foam, which provides ultimate comfort. The mattresses of Molblly company are designed to solve problems like backaches and joint pains.
Its multiple layers of different densities of foam cradle your body when sleeping and relieve the pressure mounts for top-notch comfort. The density foam transition foam helps you enjoy a calming and relaxing sleep environment. It also has zero partner disturbance technology, which helps you to get a peaceful nap.
Highlight
It has three layers of the all-foam
It is comfortable and breathable.
Suitable for
Tired women
Aged people
People of all age groups
This smart grid mattress is beautifully crafted with the help of the latest sleep science. Each layer is made in a way to give extra support and comfort from head to toe. It helps you to get the most comfortable sleep with the support of a firmer foundation.
It has gel foam, which increases airflow and prevents you from getting overheated. The adaptive body layers help relieve pressure under the shoulders and give your waist, lower back, and hips to align your spine.
Highlight
It has 3 inches HD gel memory foam.
suitable for
Abakan's mattresses have responsive open cell memory foam, which gets compressed evenly under the body weight. This mattress features tough high-density coir and rebounded foam, helping to relax muscles and provide advanced back support.
This four-layered unique mattress construction creates a zero gravity sleep. This lets your muscle enter a relaxed state by evenly distributing your body weight. This exclusive technology provides support to the five zones of your body. It helps to align your spine perfectly and correct posture over a long time.
Overall
The mattress industry is full of complicated jargon which makes it impossible to understand how one mattress is better than others. So you must choose the right type of mattress depending on your requirements.
This post contains affiliate links and I may receive a commission, at no additional cost to you, should you purchase through one of my links. Please see my disclosure for more information.