It's Saturday morning, and I want more than anything to sleep in. I want to linger a while longer in this big bed, but it has been hijacked by tiny little giggle monsters and I want to be annoyed.
My inner teenager that will always love sleeping in until noon hasn't quite died.
But despite that, my lips curve to a smile because I can't help but fall in love with this noisy moment, because an alarm clock that giggles, and snuggles, and tickles, that screeches "Mom get up! Dad I'm hungry." Makes me fall madly in love with motherhood.
It's sunny and 80* degrees, all I want to do is grab my favorite book and drive to the beach for a quiet day by the ocean.
Instead I'm packing 4 lunches, sand toys, towels, extra clothes. All the things you need for a family day at the beach, and as the longing for alone time dies. Its replaced with sheer joy, when I see their beaming sun kissed faces.
I find myself again, falling in love with motherhood, as their sandy feet run across my clean towel. As they laugh and screech running back and forth from the water. This is love, and there is no where else I would want to be.
Her fever won't go down, and his won't either. Both my babies are ill, and my heart aches for them. We've gone to the doctors, they've been given medicine. Yet they continue to whimper on the couch as I try to get them some toast, and water.
I finally come to settle in between them, and I feel their tiny bodies relax into mine. Soon my daughter is contently asleep nestled in to me, and my son is absentmindedly playing with my hair.
He's forgotten he's sick, and I know its because I am next to him. My heart swells at the knowledge that just my presence can completely ease my children. I fall in love again with motherhood.
Because despite the early and hectic mornings, or the dream of alone time. Despite sicknesses and tantrums, motherhood is the most beautiful gift and journey to be on. I fall in love every day with being a mom, I fall in love with the mundane beautiful life of parenthood. Because there isn't a greater love out there, than a mothers.
About the Author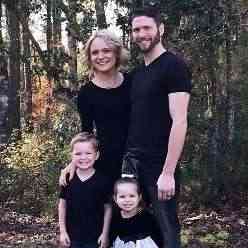 Living Lantos Blog was put on my heart a year ago, when we first started our wellness journey as a family. We provide content that inspires you to live your best life. We are a Christian based lifestyle blog that focuses on what it means to live the life God intended us to live. While putting emphasis on the families wellness as a whole; mind, body, and spirit. Visit www.livinglantos.com
---
Every day in February, we are celebrating the 28 Days of Mom Love with bloggers across the globe. Make sure to come back and check out our posts every day this month! Click here if you missed one!