A Familymoon is a perfect way to help two families that have blended spend some quality time together as a new family. What a better way to do that than to go on vacation to a fun location together! This is the first time that you will be traveling together as a family so it would be really fun to pick locations that no one has been to before.
Because this vacation is going to be filled with a ton of firsts, the locations need to be specifically chosen for this reason! Spending time together and bonding is a great way to start a new marriage and a new blending of family.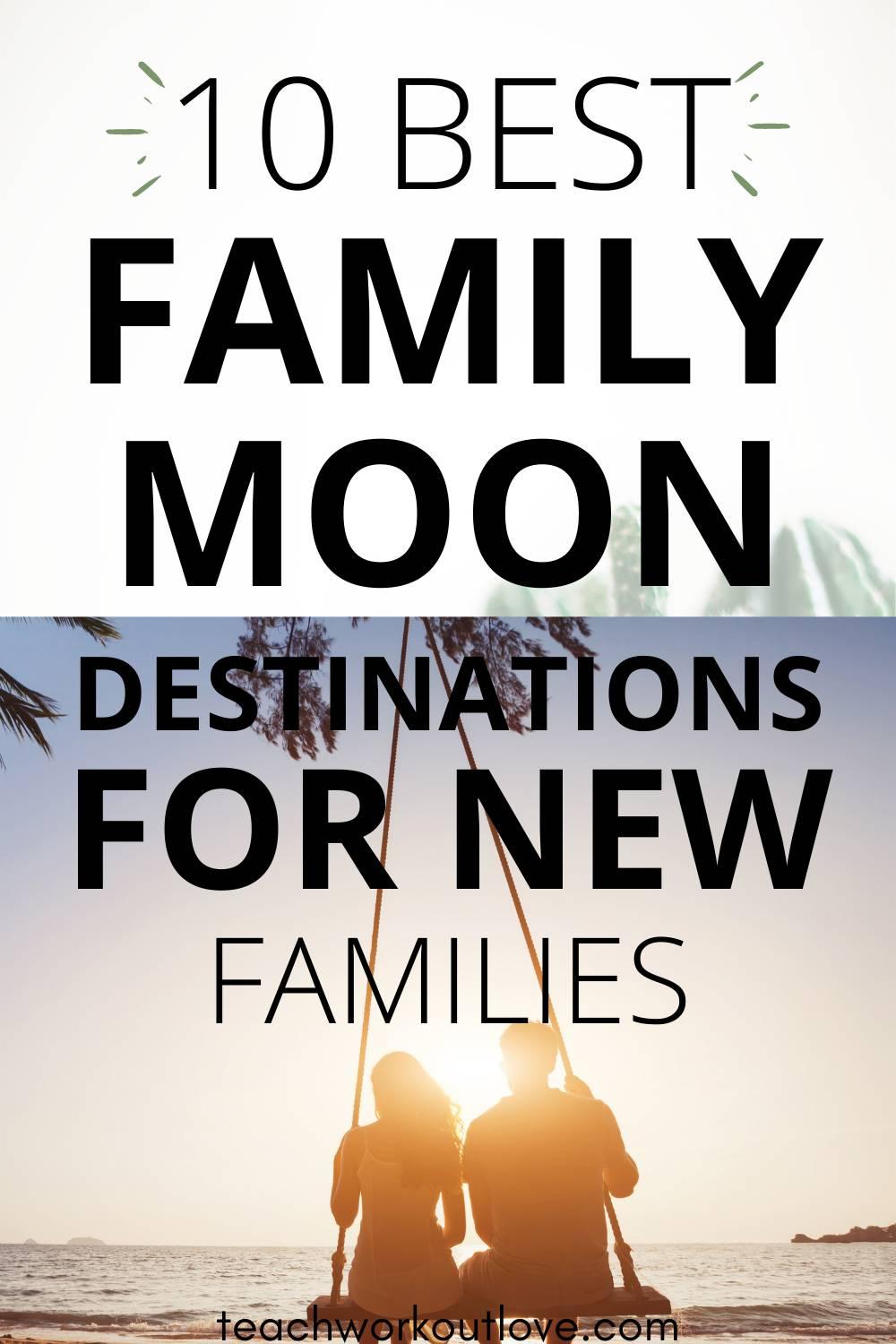 We have a list of the top 10 perfect Familymoon ideas & destinations for you to start deciding from.
1. Costa Rica
Costa Rica is a wonderful Familymoon destination for so many reasons. Whether you decide to rent a car or fly to a specific location, there are tons to do. Finding the animal sanctuaries and visiting the beautiful beaches are just a few things that you can do there.
2. Orlando, Florida
Who doesn't love Disney World? If none of the kids have ever been before, this is the perfect time to get together and go. It will be an action-packed trip, but well worth it in the end when you get to spend bonding time on the traditional rides, find out who is afraid of the dark and heights, and be exhausted together.
3. Cancun, Mexico
Another great location for a Familymoon is if you are looking for a fun place to relax and just spend time on the beach, Cancun, Mexico is the place! Spending time together as a family can be just as easy when going to the pool or spending time on the beach! Finding an all-inclusive is your best bet when taking kids, this way you can use their daycare services to get some time alone!
4. Yellowstone National Park
Looking for fun and adventure? Love the outdoors? This is the perfect location for you! Bring your camping gear, get an Air BnB, find a cabin in the woods. These are the perfect examples of bonding as a family while marking off a National Park that you have now been to. It could be a fun family thing now that you visit National Parks. Plus seeing all the wildlife will give everyone something to talk about for days!
5. San Diego, California
Not feeling the wildlife and camping scene? San Diego, California is the perfect location for the exact opposite of that. Beaches, zoos, great food, live music. This is a great family vacation spot with so many things to do for everyone of all ages.
6. South Africa
Want to go all out? Take the entire new family on a safari in South Africa. If this location will tell you anything, it will surely be a bonding time. Lots of time on the plane,  amazing animals to see together, and more! Enjoy the breathtaking views and go on the adventures of a lifetime!
7. A Caribbean Cruise
If no one has been on a cruise before, this is the perfect idea for a Familymoon! Going to the Caribbean is a great way to relax in the sun, see multiple islands and get all of the fun experiences that are involved with being on a cruise. Plus, they have tons of activities for kids so your children can start their bonding together.
8. Hawaii
Many times adults don't think about taking their kids to Hawaii with them but if you are considering going to Hawaii, this is a great time to do it! There are so many activities for kids and families to do in Hawaii. From learning to surf to snorkeling, parasailing, going on a boat, seeing interesting animals, zip-lining, and more, there are so many options for families to bond together.
9. Turks & Caicos
Another great location is Turks & Caicos. If you are not a cruise person and only like to go to one island at a time, Turks & Caicos is a great island to start with. There are a ton of all-inclusive resorts on the island and even more that have fun activities for kids. Snorkeling and daily excursions make the trip so much more fun!
10. Paris, France
Last but not least, if you are looking to head over to Europe, Paris, France is a great location to start with. By choosing Paris, you are starting everyone's love for Europe. Between the Eiffel Tower and The Louvre, there are so many more amazing locations to bring the family to just within a few miles of walking. Your family will be busy from morning to night and trying all sorts of new foods while learning about French.
Overall
Familymoons are the best way to bring your blended family together closer by traveling together to give a new bonding experience. These locations allow for that to happen in many different ways. Make sure to get everyone's opinion before choosing a location and have it become a family decision.
This post contains affiliate links and I may receive a commission, at no additional cost to you, should you purchase through one of my links. Please see my disclosure for more information.