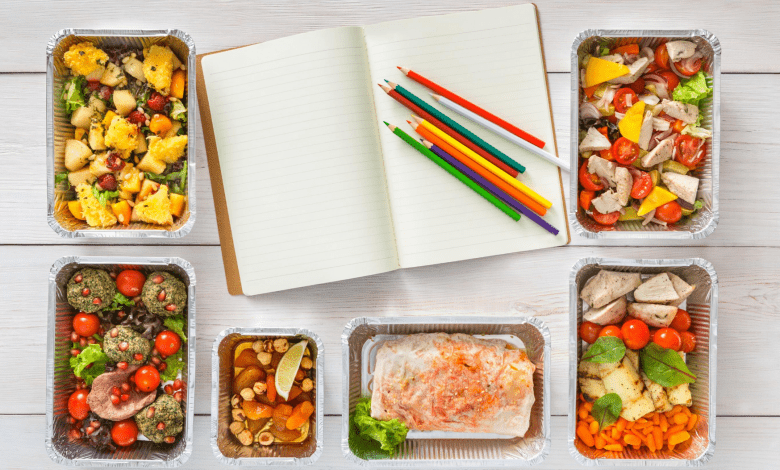 If you want to start serving your family healthy and nutritious meals, but money is tight, then you need to know how to meal plan on a budget.
There is a common misconception running around that eating healthy means spending more money. I can't tell you how many times I have heard the phrase "I want to eat better, but it's so much more expensive."
If you're buying nothing but pre-prepped salads or expensive complicated ingredients that might be the case. But in my experience, eating healthy doesn't have to cost an arm and leg!
For years I have worked to improve our family diet while also staying frugal. I'm going to share with you my favorite tips for creating a healthy meal plan on a budget.
Check the Weekly Sales
My first tip for creating a healthy meal plan on a budget is to check the weekly sales. Each week the grocery stores send out circulars with their updated sales for the week.
You can take a look at the ads that you get and look through the one for the store that you shop at most often. Then go through and circle any common items you usually buy that are on sale.
Create a meal plan based on sale items
You can use the items on sale to help build your meal plan for the week. For example, if you see that chicken, tomatoes, and tortillas are on sale, you could plan to make Chicken Tacos, Grilled Chicken Salad, and Chicken Burrito Bowls for the week.
The sale items are going to become the backbone of your meal plan. You can add in the occasional necessary item that isn't on sale, but you will save yourself a lot of money if you buy as many weekly sale items as possible.
Stock up if you can
If you have the budget to do so, you can also save a ton of money by stocking up on items when they are on sale. For example, if you know your family eats a lot of chicken and you see it on sale for $.99/lb, buy extra.
You can portion and freeze the extra chicken you buy. Then pull it out to cook with throughout the month when the price of chicken jumps back up to normal.
I have found it to be a big money saver to stock up on items that my family cooks and eats regularly. Here are some of my favorite healthy foods to buy on sale:
Chicken
Ground beef
Steak
Fresh fruit
Fresh vegetables
Dry Beans
Eggs
Yogurt
Nuts
Frozen fruit
Frozen vegetables

Stick with Fresh Ingredients
My next tip for creating a healthy meal plan on a budget is to stick with fresh ingredients. The fresher your ingredients, the healthier your meals are going to be. This might require a little bit more effort in the kitchen, but it pays off in your diet and in your wallet.
Pre-packaged foods tend to have more fillers and preservatives in them. This causes them to be cheaper, so it's tempting to buy them, but it usually ends up costing you more in the long run.
Pre-packaged foods tend to be higher in sugar, salt, and simple carbs. These are foods that our body processes very quickly.  This means that you are going to be hungry again a lot sooner than if you are eating better quality foods.
If you are eating more fresh ingredients that contain protein, healthy fats, and complex carbs, they take your body longer to process so you will feel full longer. The longer you feel full from eating, the less food you eat. The less food you eat, the lower your grocery bill.
Skip the Pre-Cut or Pre-Mixed Items
My next tip for creating a healthy meal plan on a budget is to skip the pre-cut or pre-mixed items. They often cost DOUBLE the cost of buying the item in their natural state.
This might mean that instead of buying the baby-cut carrots, you buy the bag of whole carrots and cut them into sticks when you get home. Or you buy the big 3lb package of ground beef and portion it out into 1lb containers.
By taking a little bit of extra time to chop or portion the food yourself, you can save a lot of money over time.  Here are some good items to buy whole or in bulk and portion or chop yourself:
Fresh vegetables
Fresh fruit
Chicken
Ground beef
Salad ingredients
Yogurt
Dry beans

Take Advantage of Frozen Produce
The next tip for creating a healthy meal plan on a budget is to buy frozen produce when fresh isn't available. You can get great deals on fresh produce when it's in season. When it's not, it will cost a pretty penny.
During that time of the year, you should head over to the frozen aisle and see what you can find. Frozen fruit and vegetables stay at a stable price year-round and are picked when in season. This way you still get all of the health benefits that you would normally get when they are fresh.
They are also great items to stock up on when they go on sale. They are already frozen and ready to put away in the freezer until you are ready to eat them.
Cut Back On or Skip the Meat
My next tip for creating a healthy meal plan on a budget is to cut back on or skip the meat. In most recipes, your meat is going to be the most expensive ingredient.
If you can cut back on how much you use, you will save yourself some money each week. By applying this own concept to my meal planning, I was able to cut the amount of meat in half without seeing much difference.
Here are some meals that are easy to cut back on the meat or skip it altogether:
Chili
Salads
Stir-Fry
Spaghetti
Taco Soup
Burrito Bowl
Bean Quesadillas
Use Recipe-Finder Sites to Use What's on Hand
My last tip for creating a healthy meal plan on a budget is to use recipe-finder sites. These sites let you put in the ingredients you have on hand and then give you recipe suggestions based on them.
This is great for coming up with new ways to use up food that's just taking up room in your pantry or fridge. You can also use these sites to help you plan meals around the items that are on sale at the grocery store.
This is usually one of my go-to tactics when we get stuck in a rut with our meals. I also use it when I'm trying to stretch us a few more days before making a trip to the grocery store.
Here are a couple of recipe-finder sites you can try out:
Putting it All Together
Just as a quick recap, I will walk you through how I create my healthy meal plan on a budget each week. This process usually takes me about 15-20 minutes tops. It's a small investment of time that I have found to be plenty worth the money it saves me on my grocery bill each week.
I check the weekly sales for my favorite grocery store. I write down or circle all of the healthy options that are on sale that I know I can use in recipes.
Then I go to a recipe-finder site and pick out enough recipes for the week based on the ingredients I listed out.
Next, I go to the pantry and see if there are any remaining ingredients I might already have on hand that I need for the recipes I chose.
Then I add the sale items I'm buying plus any remaining ingredients I still need to my grocery list for the week.
And that's it! Now I have a healthy meal plan for the week that isn't going to cost an arm and a leg!
Conclusion
So those are my best tips for creating a healthy meal plan on a budget. With a little extra planning, you can serve your family healthy and nutritious meals without breaking the bank.
Have you tried some of these meal planning tips before? How did it work out? Comment below and let me know. 🙂
This post contains affiliate links and I may receive a commission, at no additional cost to you, should you purchase through one of my links. Please see my disclosure for more information.