Are you expecting a child? Congrats! Being a parent is a wonderful feeling. Like everything in life, it comes with its ups and downs, but the happiness those little bundles of joy bring us is priceless. Naturally, you only want what's best for your newborn. What is actually the best?
When it comes to choosing equipment for the nursery, it's completely understandable to be picky. However, the main cause of the headache is usually the crib. What kind of cribs there are and what is best for your child?  
Check out here the types of baby cribs and how to choose the right one for your baby:
1. Standard crib
If you're not looking for anything extra or high-end, a standard crib is ideal for you. It's usually the one that pops up in your mind when you hear the words "baby crib". The standard crib is a construction containing four fixed sides, with laths throughout. It's sturdy and long-lasting, perfect for parents who plan to have more than one child.
Standard cribs usually come in a combination of two colors or tones, which makes them suitable for your baby girl or your baby boy. You can also choose from different designs, materials, and colorful touches according to your preferences. They are great for families with permanent living solutions. Those who tend to move a lot might need something lighter and more compact.
2. Portable crib
Not everyone is lucky enough to have a large and spacious baby nursery. Are you short on space? Portable cribs may be just the thing you're looking for. They are also known as folding cribs or cribs with wheels. When they aren't in use, you can simply fold and store them somewhere else.
Portable cribs are ideal for busy parents. They make it easy for you to keep an eye on your child while you run errands around the house. However, you need to be careful about those wheels and brakes on the crib. Don't forget to take your flooring into consideration as well. By choosing the correct wheels, you're saving your floors and make it easier for you to push the crib around the house. 
3. Multi-purpose crib
If you're tight on budget, multi-purpose cribs are heaven-sent for you. They are like buying two pieces of furniture for one price. Multi-purpose cribs can be set up very easily, plus they usually include a crib, changing table, and a dresser.
They are one of the most popular ways of smart nursery storing. You've got everything you need at your fingertips. If you're short on space, this is seldomly a good choice for you. In case you want to keep the crib smaller, you'll have to sacrifice some of the elements which beat the purpose of this crib.
4. Convertible crib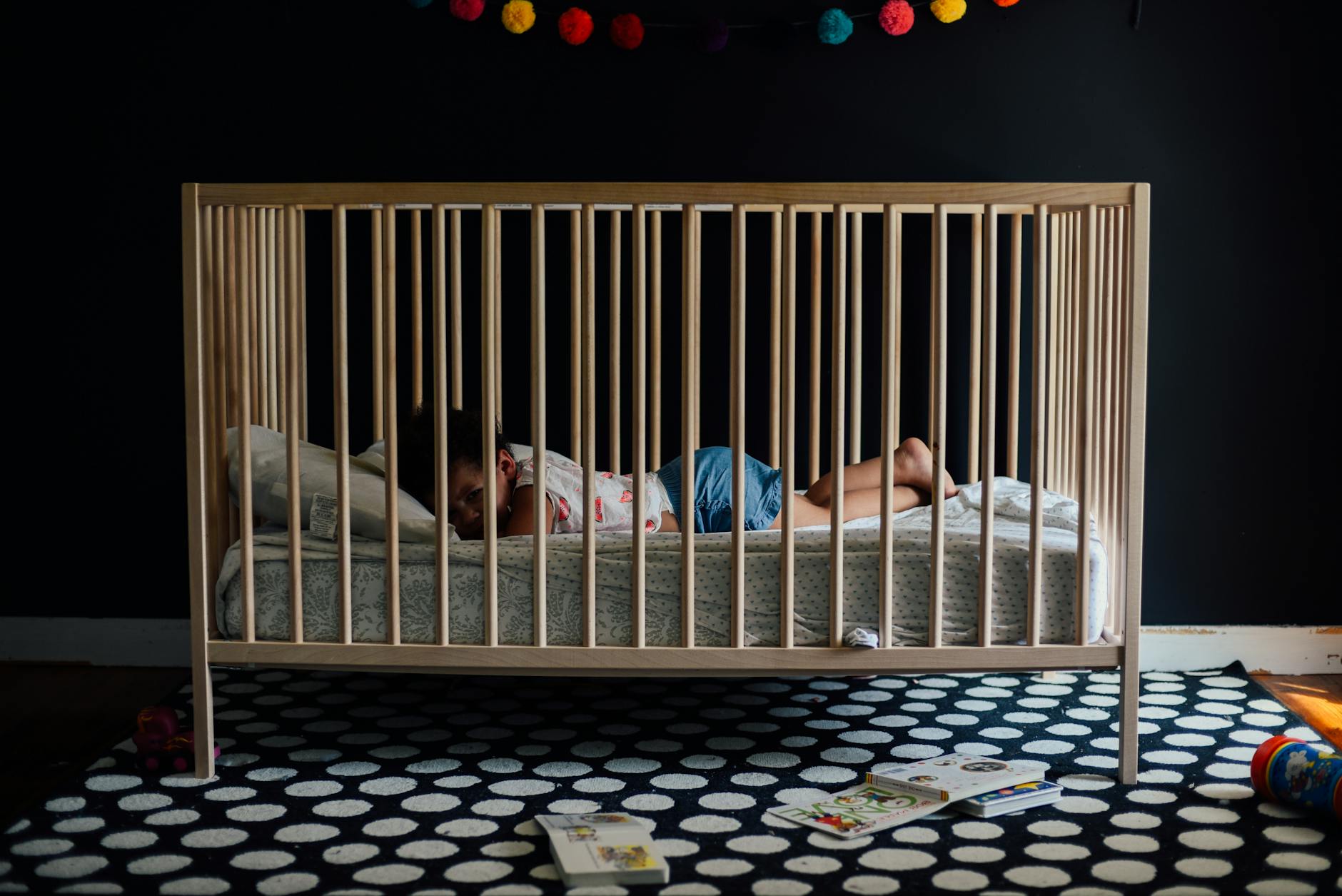 You'd be surprised at how fast children grow. In the blink of an eye, your little one will go from newborn to toddler. In no time, you'll need to buy them a bigger bed, and that's why convertible or 3-in-1 cribs are so popular. They literally grow with your child. From crib, over daybed to a full bed, it's a long-term solution, ideal for parents who are willing to spend more money but have a durable bed for years. 
Having a good mattress is crucial for this type of crib/bed. If you want what's best for your newborn, make sure to get a quality baby cot mattress for your nursery. You'll sleep peacefully knowing that your little bundle of joy is wrapped in and comfortable in the coziest crib possible. With the right kind of equipment, you'll create a magical and comfortable atmosphere, and your nursery will come to life.
5. Travel crib
Parents who often travel or move houses find it hard to transport baby cribs all the time. However, buying a new crib whenever you move houses or go on a vacation is definitely not an option. Not bringing a baby or a toddler on a family vacation is out of the picture as well. If you relate to these situations, a travel crib is a perfect choice for you.
Even though they aren't as long-lasting as wooden cots, travel cribs are the lightest when it comes to weight. They are easy to carry, quick to set up, and are one of the must-have things when traveling with a baby. On the other hand, they can tear pretty quickly and are nowhere near a permanent crib solution for your youngster. 
Conclusion
As you can see, there is a wide range of baby cribs that serve different purposes. According to your budget, space, and needs, you can choose amongst these amazing cot types for your baby nursery. Keep in mind their cost-effectiveness and whether you plan on having only one child or more. In the end, the most important thing for you should be your baby's safety and comfort. So, tuck in your little angel and go to bed peacefully knowing your youngster is sleeping safely and soundly.
This post contains affiliate links and I may receive a commission, at no additional cost to you, should you purchase through one of my links. Please see my disclosure for more information.