You love to transform and you love to travel! Why not do both at the same time? Traveling helps you to constantly be transforming and traveling by the sheer fact of getting away. We transform by increasing joy, having brand new experiences, and enhancing our creativity. You want to come back feeling like a brand new person. Maybe you want to go alone? You could focus on transforming and traveling alone.
You may decide to travel in luxury, staying in 5-star hotels and traveling via a private jet charter from a company like Jettly. Alternatively, you may decide to rough it up and travel largely by bus/car and stay in hostels. Either way, you can still transform! Or maybe, you love to travel with a group or retreat? Maybe you even want to take the kids along? If you are a mom, you could travel with the kids too! Give yourself the freedom to choose what is best for you each time.
Either way, it's time to Transform and Travel now. You will want to get your journal and your calendar out to make a plan. It is great to dream about transforming and traveling. The desire and drive to take action will win every time. You want to transform and travel, but you don't want to break the bank doing it? Check out these 7 Tips to Transform + Travel. It's time to turn your dreams into reality.
My Experiences With Transforming + Traveling
I was born traveling. My parents conceived me in Bulgaria, born in Poland, and in a refugee camp in Italy by the time I was six months old. I immigrated with my parents to the United States when I was a year and a half. At that point, I had traveled to over four countries.
Since then, I have traveled to over 27 countries. This includes a solo trip across the Atlantic with my brother at the age of 11, solo trips before "travel blogger" existed, and creating over 4 retreats.
My experiences include scuba diving adventures in Jamaica and Egypt, and hot air ballooning in Spain. They include giving back with community service in Cuba and other countries. I love to transform + travel and help you create it too! 
Since I am very passionate about transforming and traveling, I thought I would share 7 tips to transform and travel.


7 Tips to Transform (And Travel)
I am sharing 7 Tips to Transform and Travel so you see how easy it is for you. You will get insight to transform and travel with:
Staycations
Solo Trips
Retreats
Whatever you choose to create next you will remember your experiences to transform and travel for a lifetime. Each and every time you are feeling you may need to have a new experience, come back and visit this post!
1. Play Like Tourists
Set up an itinerary in your city! This increases stimulation and joy because it is a new experience. Even if you are in your city, you are experiencing something new or for the first time. I did this recently here in Atlanta, GA. A great idea would be to google Top 10 in your city or perhaps an experience you didn't know in your city.
For our social media gurus, bloggers and influencers, you could reach out with a press experience to create content to one of the top tourist destinations. You will really feel like you are traveling! You could even ask if they have options for ongoing collaborations or a press or overnight stay.
For the stay at home or work from home moms, you could play tourist with your kids around the city too! You will all enjoy some fun in the sun. You could talk about what you loved about playing tourists as a family and what you may want to do next. Here are some great ideas on fun outdoor activities you can enjoy.
2. Experience a Staycation
Perhaps you want to take your tourist experience up a notch. How about a staycation in your city? I have done this with campers, tiny houses, and cabins in and near Atlanta, GA. One of my experiences included an Alpaca Farm via a local Airbnb! I got to experience feeding lemons and oranges to the goats and watching Alpacas mate!  Let me tell you they were both quite the transformational experience.
Perhaps, you are worn out and want to simply REST. You may want to rent a cabin or place with a jacuzzi and simply journal or enjoy some quiet time all to yourself. This might be a great time for you to plan a transformational experience with your husband or significant other.
Grab your calendar right now and look at the next month to three months. Ask yourself "how is this possible"? Who can help me make this happen? Search for some unique experiences you may want to have in your city.
Here is a snapshot of a staycation I had in Atlanta and my new friend – Hercules!
3. Enjoy Healthy Travel
Do you love to stay healthy while you travel? These best wellness destinations may be right up your ally to experience next.  These destinations will help you stay healthy or experience healthy travel for the first time ever.
You may love to prepare for healthy travel as I do. I love to prep my Herbalife Global Nutritional Supplements, 6 Pack Meal Bags, and google "healthy eateries" anywhere I travel! Smoothie Bowls, anyone? This is why I plan our retreat experiences around health.
Think about it. When you feel healthy, you feel like you may be, do and have anything! So, why not set yourself up for success in every way. I recently experienced some yummy Acai bowls at Ponce City Market on one of my days playing tourist in Atlanta.
The same way you plan your itinerary for activities, you may want to outline healthy food experiences that are Instagram and Pinterest worthy too. One of my favorites is Eat Flower Child!
4. Set Up Savings
To regularly travel there are two keys to success that include saving regularly and making it part of what you create. When is the last time you looked at your budget? Do you have a budget? When is the last time you looked at your spending line by line? I promise you that you will find a minimum of $100 you may reallocate to travel each month.
Most Americans are living one paycheck away from being homeless. Isn't it time you took control of your money mindset and your money? Do you want your family and your children to have the same mindset or experience with money that you have so far? Do you want to change the trajectory of your family's money and family tree?
Think about ways that you spend money currently that are wasteful or not aligned to what you say you want. Think about ways you could reallocate your money towards saving for travel.  How about some ways you could create income as well?
5. Something Brand New
The key to growth is expressing yourself fully. How do you know who you are fully if you haven't created or done something new lately? What has been on your vision board or bucket list? What could you experience that is brand new and excites you? How could you transform and travel with something brand new and vulnerable?
Some ideas may include:
Riding a scooter
A new water sport
Rock climbing
A dance class
A new food
Join a new community
Create a community
Get a blowout or makeover (or both!)
Get a boudoir or lifestyle photoshoot!
How could any of the above help you grow as a woman? What about creating confidence? How could it empower you as a woman? You want to live a life by design, not by default.
6. Transform from Inside
Be honest with yourself – how often do you think about your growth in every area of your life? Do you regularly reflect on your spiritual, mental, relational, playful, financial, physical, and emotional growth? What would it look like if you started to focus on this regularly?
Travel is part of the equation of "Transform and Travel". Yes, travel stimulates us to experience new things and culture. However, if nothing changes, nothing changes. Do you give regularly both at home and while you travel? How about experiencing joy more often? Do you feel content every day while growing? If you don't, chances are you may be experiencing internal areas ripe for transformation. You don't want to disregard or overlook your mental health in any way, shape or form.
Transforming from the inside out is the core of everything. The more you work on transformation from the inside out, the happier you will feel. Here are some transformation teachers and tools we love.
7. Create a Community
I believe there is nothing like transforming and traveling with the community. Whether you create a community like Teach Workout Love, FIT LIfe Creation, or you join one, the community is everything.
Whether it is online, with live events or with retreats, we have all experiences connecting, creating and cultivating with a community of like-minded individuals. There is nothing like it. Not everyone would have or love workshops in the pool!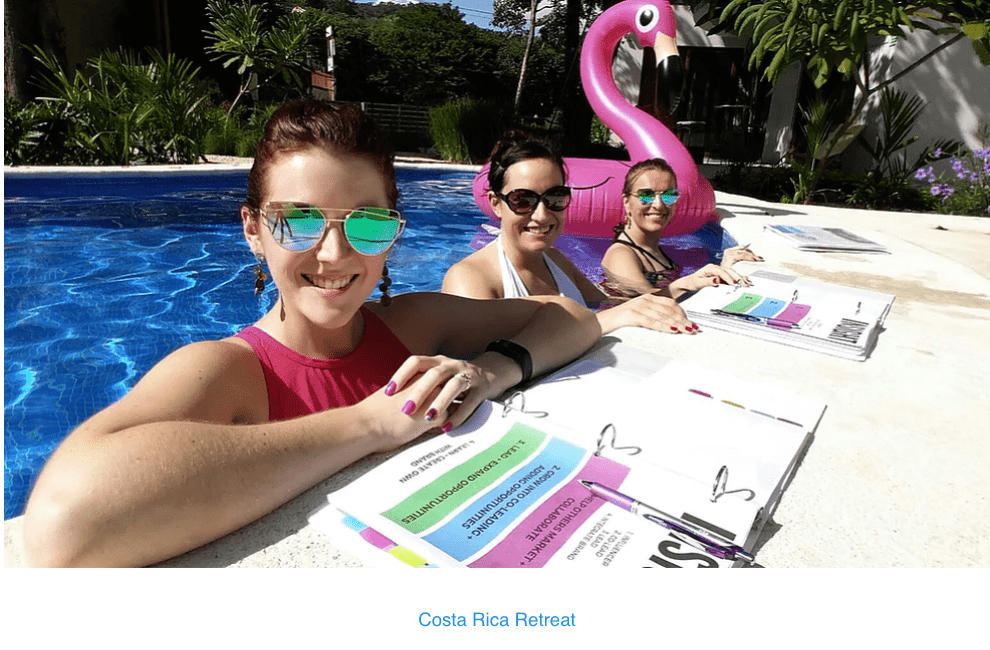 With a community that is uplifting, you feel empowered, energized, and like the rock star you are.
I would challenge you to create a community. All around the world people are hungrier than ever to be part of a community. What if you started a movement? Imagine having your online community, your events, your retreats. Imagine what it would feel like to transform and travel all around the world.
You could start by increasing your social media presence and connecting with the community.  Perhaps, you expand your blog or guest post writing like Teach Workout Love does and we do. Perhaps, you host your first online event or meet-up for moms in your city or on your next trip.
These are a few ideas to help you create a community.
Transform and Travel
You've got many ideas on how to transform and travel. If so, please don't let this be another blog post you simply read and get "inspired" by. Let this post inspire you to action.
Decide if you want to do something solo, with your family, or with a community next. Make a choice to transform from the inside out in your health, wealth, business and travel. Before you know it, you will be on your next trip or bucket list item!
It's time to make a plan for you to transform and travel!
Please comment on what you loved on this post and what you will create next.
Tag a friend you want to create a community with.
This post contains affiliate links and I may receive a commission, at no additional cost to you, should you purchase through one of my links. Please see my disclosure for more information.