Summer is almost here and with that comes the family travel season. As fun and memorable as they can be, they also can be chaotic and require a lot of planning. Grainne Kelly, the founder of the award-winning inflatable car booster seat BubbleBum, is here with some advice for planning your family vacation to be the best it can be for everyone and without the chaos.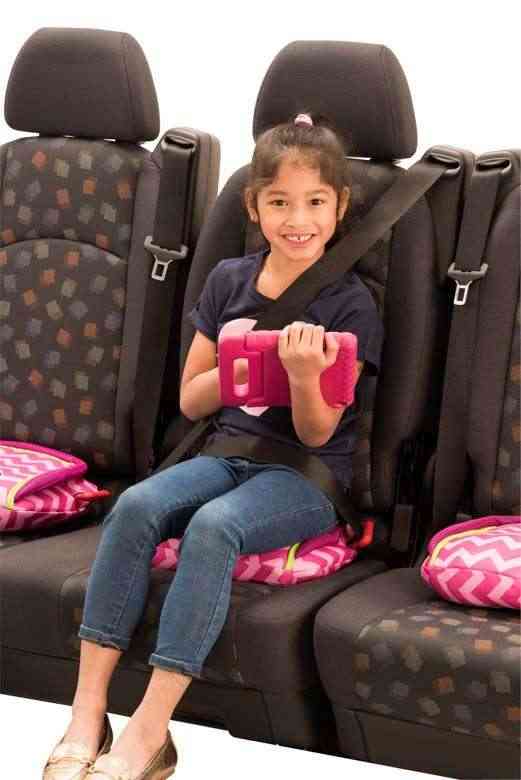 Are we there yet?
The best solution to this travel obstacle happens when no one asks the question. It may sound too good to be true, but it is possible to enjoy getting from place to place. First, know your kids and your personal limits. If they are good sleepers and the travel hours long, try leaving late at night. Have the designated driver rest well before the trip. Everyone else has a normal day, ending with calming baths and comfy jammies. Wake up your driver, load up the car and hit the open road. Passengers get a chance to sleep, the driver gets a peaceful drive hopefully less traffic. Be sure to an easy arrival day. The driver will need a chance to rest, so hopping out of the car and into an amusement park could cause some drama. Plan for day one to be spent exploring your accommodations, checking out the pool and playground and giving the tired driver some rest. Airline travel can be accomplished much the same way. Be sure to pack a small activity bag with snacks for each traveler just in case the excitement changes sleeping expectations.
If you chose to travel by daylight or are a family of travels too excited to rest, the trick to avoiding 'are we there yet' is found in how you pack the travel bags. Keeping the peace starts with everyone getting their own special bag of tricks. Magnetic puzzles, personal electronics, travel-friendly art supplies and snacks are just a few of the ways to keep your travelers happily busy. Play a game together. The license plate game is a classic, but you can always include I Spy or a travel scavenger hunt. Choose known landmarks along your travel route and have a goal list. You can challenge the family to find them all or challenge each other by seeing who finds them all first.
Stop for breaks
Excitement and anticipation make heroes of us all sometimes. Acknowledge it, and plan for it. There is nothing worse than arriving at your dream vacation exhausted and grumpy. Include breaks in your plan and arrive ready to enjoy the trip you've worked hard for. Rest stops are a good option for a picnic break. Pack a frisbee or ball for the family to work off any potential wiggles. Major airports sometimes include play areas for little ones. Check airport maps for options during layovers. If a designated play area is not available, take a walk around your terminal and stretch.
Be prepared
Regardless of how you travel: plane, train, boat, or car, be sure you have a minimum of a change of clothes and a few days of any required medicines for each member of your family. Copies of important documents and contact information should be included. You may choose one ready bag for everyone or incorporate these items into each individual's travel bag, but don't skip the step. If you make it through your travels without needing it, great! But on the occasion that you do need it, you'll be grateful.
Travel Safely
Research travel safety requirements across states and countries you travel through. Be sure the car seats and boosters you have will meet standards in each area you travel. Car seat bags for air travel keep your seat clean, protected and are a great way to pack extra diapers, toys, and blankets while saving room in your luggage. For older children, booster seats are key safety and comfort increasing measure. A great solution to booster seat travel is BubbleBum. The cost-effective, portable, lightweight, brightly colored, inflatable car booster seat for children aged between 4-11 easily deflates and folds flat so that kids or moms can carry it in a rucksack or handbag, making it perfect for vacation, rental cars, taxis, coach journeys, field trips or carpooling. BubbleBum is an innovative, portable, inflatable booster seat designed to ensure safe seat belt positioning and cure the dreaded 'dead leg' feeling your kids complain about when they spend longer jaunts in the booster seat. Happy, comfortable kids, make happy travelers. And the reduction in the number of bulky items to haul when traveling makes dad and mom happy.
Planning with Flexibility
Your idea of a vacation doesn't include spreadsheets and timed reservations? Have no fear and plan anyway. A plan is just a framework of information that makes rolling with the options your travels present that much easier. At a minimum, jot down your travel dates, any potential stops and places to stay. Research the areas you intend to visit and be aware of potential delays you might incur like festivals, parades, or holiday closures. Most popular destinations have planned maintenance and downtime. You don't want to roll into your favorite vacation place to find the main attraction or pool closed for refurbishment. Imagine the groans and potential drama. So even for the planning averse, spending a few minutes gathering information and building a basic vacation plan will make your travels a success.
 
About Grainne Kelly:
Grainne Kelly is a former travel agent and certified child passenger safety technician who revolutionized the child travel industry by inventing BubbleBum: the world's FIRST inflatable booster seat that travels anywhere, fits three across, weighs less than one pound and can deflate in seconds, making it simple to throw in a backpack or purse. She regularly offers insight on child travel safety as well as planning/organizing for family trips. 
BubbleBum is sold online at BubbleBum.co/us and in Target stores nationwide. You can also connect with them on Facebook, Twitter, Pinterest, and Instagram.