Working moms have a lot on their plate when trying to manage their work life and their family life. Since becoming a working mom, finding a planner to include my entire life has been difficult. I have always struggled to find the perfect planners for working moms, but adding in mom life made it that much harder. I have tried to use my calendar on my phone or any of the online apps for scheduling, but that method does not work for me. As I am a paper and pencil (and cute design) kind of girl! This makes searching for the best planners extremely difficult.
If you are looking for the best planners for working moms, it has to be something that is personal to you and easy to use, based on what you are looking for. If you are looking for a new planner for 2018, I have five great options for you. What is the best planning for a working mom? There are a few key items that need to be in the planner to help working moms be successful.
Featured Photo by STIL on Unsplash
When picking planners for mom that works, it is important to consider what is best for you.
What size should the planner be?
Should it be paper or electronic or both?
Will the calendar day boxes be big or small?
Do you need room to write?
Do you need all the extras?
What will the layout be like?
A planner is something that will help you remember everything that you will need to do within the 12 months of the year, so it is considered as an important purchase. Here we have mentioned some of the best planners for working moms in 2018:
This planner has a hardcover because as moms, we need to make sure the planner is not easily ruined! It is definitely one of the best planners for working moms because it has the each week planned out and you can adjust it to your liking. Other features: goals, notes, to-do lists, this week's wins, how I'll improve next week, what to clean, etc!
The planner comes in three different colors, pink, black and orange. This planner helps you stay focused on your goals and feel happier and increase your productivity. The fact that this planner includes affirmations and goals is so helpful in organizing your life weekly. It is absolutely perfect for a working, blogging mom!
---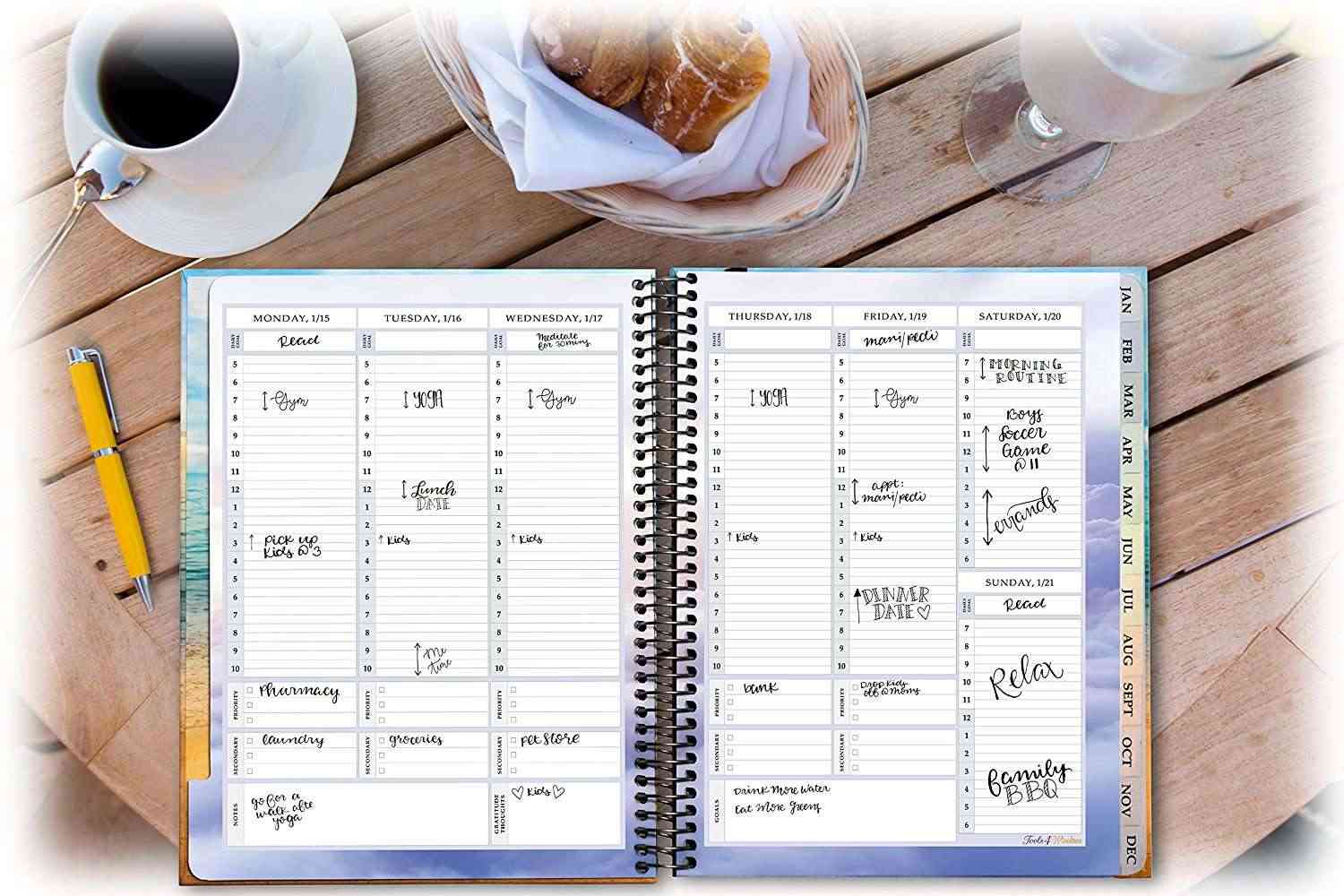 This planner is a great daily planner for working moms. It provides time slots for each day and gives a whole monthly calendar so you are able to check out the entire month as well as week by week in full detail. Also, print out your Daily Cleaning Checklist for Working Moms and put this directly into your planner!
Being able to edit it to your liking is a great choice for a working mom!
---
I have used Erin Condren planners for the past three years as a teacher and a mom and it has literally saved me! It does tend to get heavy since it is hardcover, but I can hold a ton of information in there. I have yet to forget something because I staple my lesson plans into the book.
Then I write down everything I need daily on the monthly calendar. It has worked great for me and I definitely plan to get this one again for the upcoming school year. It also has so many pockets and folders built into it that you are able to keep everything together. The pages are thick so they don't rip when you erase and rewrite.

---
Not only does this planner come with tons of writing space, but it gives you the option to add in your values into a triple bubble map.
The great thing about this planner is that it helps you find a balance in your life by providing tabs, folders, and tons of writing space. Plus it comes in tons of colors! This is great for mom bloggers who work full time. Using this can help keep your articles organized along with life events.
---
This little beauty has so many different options for a working mom to use as a planner. It is an 18-month planner which is really helpful because once you already have information into your planner.
It makes it hard to want to transfer everything into another one every single year. This gets rid of the stress of transferring information. There are tons of different stickers and washi tape that can go along with this planner for the creative working mom.
---
Accessories for your planner
Conclusion
Shopping for a planner is hard, especially if you are picky like me. Make sure you view it, read the description and go see it in the store if possible. Before deciding on the right one, make sure to view more than one. This way you can make a decision after you have thought about it long and hard. This is something that will be stuck with you for one whole year! Which one will you choose?
{This post contains affiliate links. Please visit my disclaimer page for more information.}