Being a stay at home mom is no easy gig! Those who don't have kids believe that stay at home moms sit on the couch with their cup of coffee and go shopping all day long. In reality, that is the complete opposite, especially when your baby starts to crawl! Add more kids into the equation and it's like managing a small restaurant. Taking orders, cleaning up, resetting the tables, making calls, picking up items from the store, and managing the staff. Over and over again, every single day. Stay at home moms are tired. This article will talk about 5 reasons why a stay at home mom planner is a must have and which ones to buy.
Photo by Estée Janssens on Unsplash
Daily life is crazy
Life is for sure crazy on a daily basis. When you have more than one kid, trying to keep track of where they need to be all the time is difficult! Extracurricular events are scheduled on a weekly basis. Doctors appointments are scheduled in 6 month increments. Who can remember when their child's dentist appointment is scheduled 8 months from now? This is why a stay at home mom needs a planner. Not just any planner though. A planner that has a daily schedule, so writing down what to make for dinner or take out to thaw. Or scheduling in a nail appointment when your husband isn't at work. Did you know that planners can give a daily productivity rating? We have the best stay at home mom planner for you!
They make great planners for all moms, working moms and stay at home moms. But recently a new version has come out and this is perfect for a stay at home mom planner. Here are some of the new features for this planner:
Daily Schedule
Life Balance To-Do List
Daily Productivity Rating
Detailed Weekly Review
Pink or black
Easy to fit in a bag
Tracking doctors appointments, when sports are and what to make for dinner, this is the right planner for you! Keeping your busy life organized needs extra help. Use this code "GET5OFF" to get 5% off any purchase on the website.
A little piece for you
Stay at home moms, especially new moms, don't get much that is for themselves. A planner is something that moms can customize for themselves, almost like a journal. This one has that special feature just for moms:
momAgenda Desktop Daily planner
This planner sets up a week at a glance so you can see what you have scheduled all week long. It's hard to plan even the day ahead, but knowing what you have to plan for the whole week is key for stay at home moms. There are spaces for mom and up to four kids to monitor their entire weeks!
Some of the best aspects of this planner are:
Daily motivation quotes
Has different locations for mom and up to 4 kids
Comes in 6 different colors
This stay at home mom planner is a 17 month calendar, running August 2018-December 2019. Not switching planners often is a huge relief to moms too. It keeps all of our important information in the same place.
Side tracking can happen
Trying to remember everything in going on every week, or throughout the month when running on no sleep is difficult! Remembering a birthday of a friend is impossible, unless Facebook gives you the update. Why not take advantage of the Erin Condren life planner and stay on top of your daily life.
Erin Condren does a great job of giving tons of options when making a planner. Not only can you customize your name and decor, but you can personalize the planner for yourself. Here are some special features that can make this the perfect stay at home mom planner.
Two-Page Monthly Spreads per Month
Three Layouts: Vertical, Horizontal or Hourly
Stylish Design Elements & Inspirational Quotes
Included Coiled-in Stickers!
Two-Page Goal Setting Spread
Get your daily life together by using an Erin Condren planner to stay organized.

Self-care is important
Being a mom, especially a stay at home mom, there is little time for self-care. This is something that might need to be scheduled in. We are busy and self-care gets put to the very last thing possible, especially if there is no scheduled time. We have the best stay at home mom planner for you to schedule in self-care.
The title says it all! It is perfect for the busy mom. Whether you are a new mom or a mom of many, this planner is there to help you stay organized. Some features that make this planner a great stay at home mom planner are :
Viewing whole week at a time
Big columns to write in
Whole month calendar provided
Daily notes
Tabs for each month
Make this your best way to stay organized!
Keeping the family healthy
Tracking doctors appointments is a nightmare itself! Most doctors plan 6 months to 1 year out. What mom can remember what is supposed to happen this weekend, let alone in 6 months? Keeping a yearly planner is the best way to keep your family healthy and meeting their doctors appointments yearly.  We have the planner for you to stay on top of all the annual doctors appointments.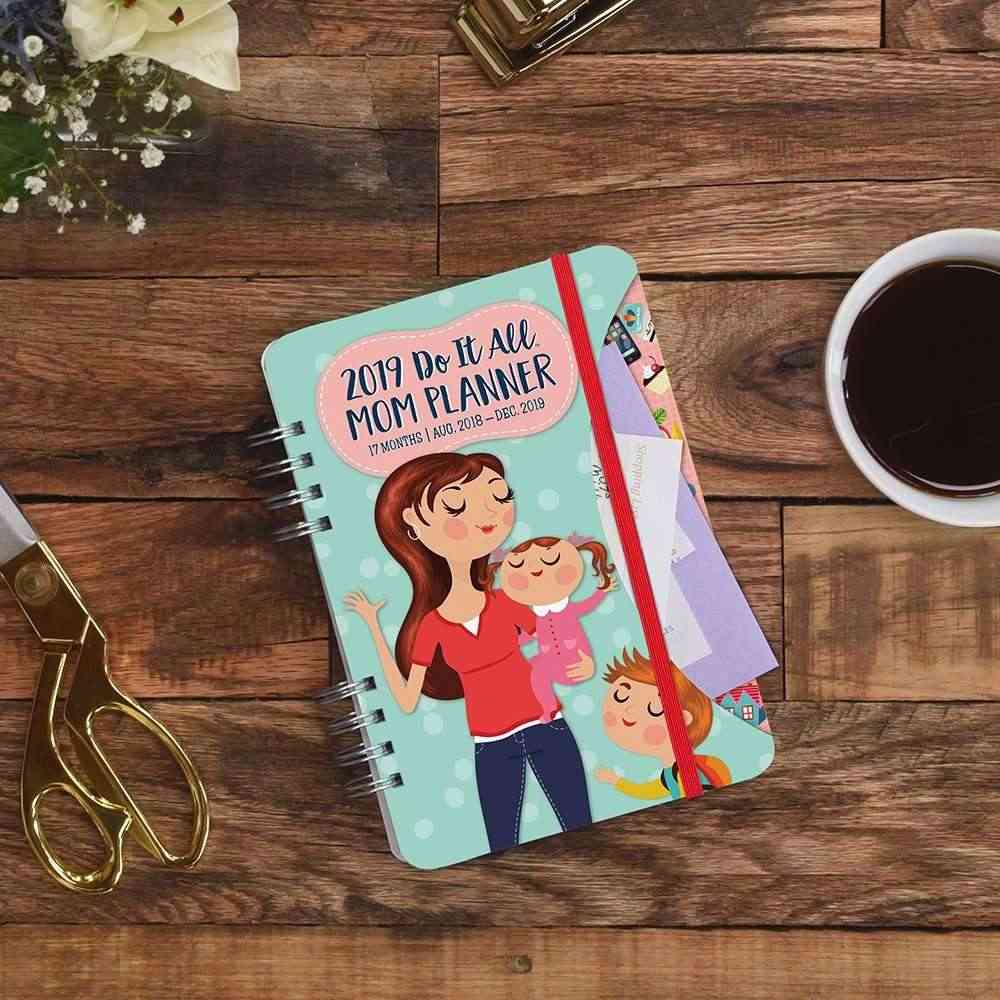 Not only is this a great planner but it has a folder in it that makes it easy for moms to save recipes or business cards. Here are the features:
Includes 300 stickers to mark appointments and tear-off lists for shopping and to-dos

A handy pocket stores notes and reminders

Week-per-spread is divided into spaces to organize by task, time or day or track schedules

Charming quotes start each week off in an upbeat fashion

Sturdy split ring wire-o binding keeps the planner opened flat and a color-coordinated elastic band closure to keep it neatly tucked away; printed using soy-based inks
Not only will this planner help you stay organized but it more like a lifeline as a stay at home mom. Make sure to check it out!
Nothing can make being a stay at home mom easier day by day. However, finding the right planner can help you stay sane and organized when life can seem chaotic.
[blockquote align="none" author=""]This post contains affiliate links. Visit the
disclaimer
page 
for more information. [/blockquote]